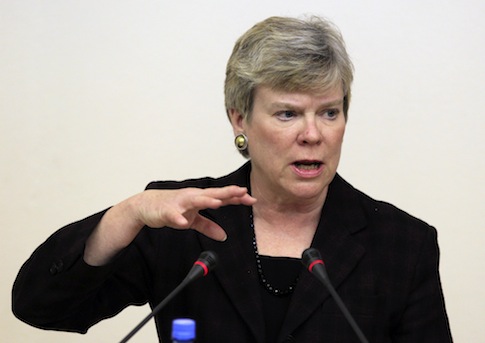 The State Department's senior arms control negotiator has been an unconfirmed acting undersecretary for 19 months at the same time she oversaw violations and verification of arms accords.
The dual positions held by Rose Gottemoeller, acting undersecretary of state for arms control and international security and the assistant secretary of state for verification and compliance, is undermining U.S. arms control efforts and violating Congress' will and possibly federal law, according to former national security officials.
Gottemoeller's lengthy role as both senior arms negotiator and verifier also is raising new questions about whether the Obama administration's recent deal with Russia to dismantle Syria chemical arms will involve strict verification provisions.
The United States and Russia concluded a last-minute "framework" agreement Sept. 14. It calls for identifying Syrian chemical arms, placing them under international control, and then dismantling them.
Arms control experts say the terms of the tentative accord are vague, and implementation in the midst of a sectarian civil war will be difficult.
(Click link below to read more)
READ MORE
Sphere: Related Content