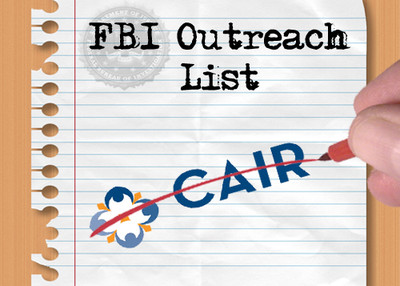 Hamas-linked CAIR is pushing the "Islamophobia" myth in a big way today, expanding its list of targets in a new report to include everyone,
everyone
, including your Aunt Gertrude, who has ever dared to speak a remotely critical word about jihad terror and Islamic supremacism. Maybe they're trying to deflect attention away from the fact that despite irrefutable evidence of this unsavory group's Hamas and Muslim Brotherhood links, the clueless and compromised FBI, which was forbidden in 2011 to investigate the motives and goals of jihad terrorists (because such investigation was "Islamophobic"), continued contacts with Hamas-linked CAIR in violation of an official ban.
"Wolf Demands FBI Punish Agents For CAIR Contact," from
IPT News
, September 19 (thanks to all who sent this in):
On a day when the Council on American-Relations (CAIR) issued a report accusing its critics of bigotry, a Justice Department investigation reminds the public why CAIR does not merit the public's trust.
Inspector General Michael Horowitz found a series of incidents in which FBI field offices knowingly engaged in outreach activity with CAIR despite a 2008 policy banning non-investigative cooperation with the Islamist group. Only a summary of the report has been released publicly. The rest is considered classified, but has been made available to Congress.
The ban on interactions with CAIR, first reported by the Investigative Project on Terrorism, resulted from an FBI investigation into a Muslim Brotherhood-created Hamas-support network in the United States.
Internal documents seized by the FBI show that CAIR and its founders, Omar Ahmad and Nihad Awad, were a part of that network known as the Palestine Committee. Both men appear on a telephone list of Palestine Committee members (Awad is listed under a pseudonym "Omar Yehya), and CAIR is listed on a meeting agenda listing the committee's branches.
"[U] ntil we can resolve whether there continues to be a connection between CAIR or its executives and HAMAS," an FBI official wrote in 2009, "the FBI does not view CAIR as an appropriate liaison partner."
But several FBI field office agents-in-charge balked at the policy, the Inspector General's report finds, and the FBI's Office of Public Affairs repeatedly offered field offices conflicting information. Despite a series of electronic communications explaining the CAIR ban – it does not apply to criminal investigations or civil rights complaints – issued from August-December 2008, and despite a mandatory meeting for Special Agents in Charge (SAC) of field offices, the head of the Los Angeles FBI office told his agents to ignore FBI headquarters.
"[W]e will decide how our relationship is operated and maintained with CAIR barring some additional instruction from FBI Headquarters," the Los Angeles SAC wrote. "Please instruct your folks at this time that are not to abide by the … [policy] but that their direction in regards to CAIR will come from the LA Field Office front office."
In a scathing letter to new FBI Director James Comey, U.S. Rep. Frank Wolf, R-Va., called the violations "intolerable" and demanded punishment for those responsible, including "separation from the FBI."
Wolf is chairman of the House Appropriations Committee's subcommittee responsible for the FBI's budget. He noted that the investigation only focused on incidents involving three field offices – Chicago, Philadelphia and New Haven, Conn., so the depth of the problem still is not known.
....
In 2010, Attorney General Eric Holder was asked whether there was any "new evidence that exonerates CAIR from the allegations that it provides financial support to designated terrorist organizations."
"No," said a written reply from Holder.
(Click link below to read more)
READ MORE
Sphere: Related Content