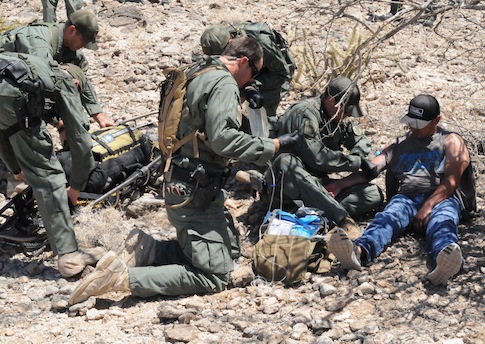 The government shutdown is taking a financial toll on border patrol agents required to report for duty as they are considered essential workers, but are not getting paid due to the logjam in Washington.
Many agents "live paycheck to paycheck," said Shawn Moran, vice president of the National Border Patrol Union.
"We continue to do the job, no matter what," Moran said, though he added that the strain on agents and their families is noticeable.
Border agents, like military personnel, are considered essential. However, unlike the
pay
of servicemen, border agents' pay was not addressed in legislation during the shutdown.
Moran pointed out that agents who are "on the front lines risking their lives" are not getting paid, but those who work in Congress continue to get their paychecks.
"At this point, most of our agents and members are extremely frustrated. If you look at what we have been through this year already, the government lock out is yet another example of how the morale of our agents is probably the worst it's ever been," said Stuart Harris, vice president of Local 1929 of the National Border Patrol Council, in an email to the Free Beacon.
Harris pointed out that following sequestration, agents were faced with 14 furlough days and a 42 percent pay cut.
(Click link below to read more)
READ MORE
Sphere: Related Content