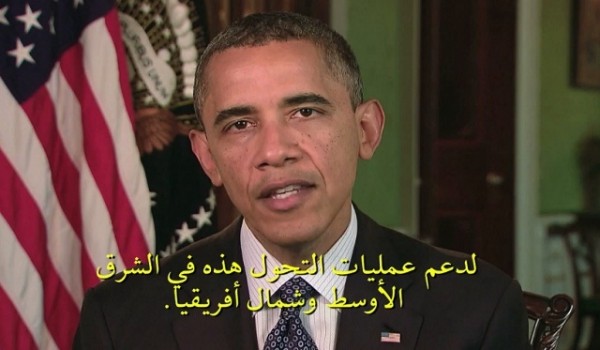 Why would Muslim oil billionaires finance and develop controlling relationships with black college students? Well, like anyone else, they would do it for self-interest. And what would their self-interest be? We all know the top two answers to that question: 1. a Palestinian state and 2. the advancement of Islam in America. The idea then was to advance blacks who would facilitate these two goals to positions of power in the Federal government, preferably, of course, the Presidency. And why would the Arabs target blacks in particular for this job? Well, for the same reason the early communists chose them as their vanguard for revolution (which literally means "change") in America. Allow me to quote Trotsky, in 1939: "The American Negroes, for centuries the most oppressed section of American society and the most discriminated against, are potentially the most revolutionary element of the population. They are designated by their historical past to be, under adequate leadership, the very vanguard of the proletarian revolution." Substitute the word "Islam" for the words "the proletarian revolution," and you most clearly get the picture, as Islam is a revolutionary movement just like communism is. (Trivia: it is from this very quote that communist Van Jones takes his name. Van is short for vanguard. He was born "Anthony"). In addition, long before 1979, blacks had become the vanguard of the spread of Islam in America, especially in prisons.
Interestingly, in context with the fact that this article was written by her father-in-law, Valerie Jarrett has an unusual amount of influence over Obama (along with personal security that may be even better than his, another unusual and intriguing bit of business here). And equally interesting is that Obama, who may have been a beneficiary of this Muslim money, and may now be in this Muslim debt, has aggressively pursued both of the Muslim agendas I cited above. And, also equally interesting, is that Obama has paid a king's ransom for court ordered seals of any such records of this potential financing of his college education, and perhaps, of other of his expenses.
Lastly, it's very important to note that the main source for the article is Khalid Mansour, "the same lawyer who allegedly helped arrange for the entrance of Barack Obama into Harvard Law School in 1988." (Valerie Jarrett, by the way, was born in Iran. The one country protected by Obama from the sweep of the Arab Spring.) Now all of this may seem sensational, but let's face facts. What makes it most disturbing is that not only is it all logical, but it suddenly makes a lot of previously confusing things make perfect sense.
–
Pat Dollard
Excerpted from Daily Interlake:
Searching old newspapers is one of my favorite pastimes, and I have tried to use them many times to shed light on current events — or to inform readers about how the past is prologue to our very interesting present-day quandaries.
Recently, I came across a syndicated column from November 1979 that seemed to point 30 years into the future toward an obscure campaign issue that arose briefly in the 2008 presidential campaign.
Though by no means definitive, it provides an interesting insight, at least, into how Chicago politics intersected with the black power movement and Middle Eastern money at a certain point in time. Whether it has any greater relevance to the 2012 presidential campaign, I will allow the reader to decide. In order to accomplish that, I will also take the unusual step of providing footnotes and the end of this column so that each of you can do the investigative work for yourself.
The column itself had appeared in the St. Petersburg (Fla.) Evening Independent of Nov. 6, but it was the work of a veteran newspaperman who at the time was working for the prestigious Chicago Tribune and whose work was syndicated nationally. (1)
So far as I know, this 1979 column has not previously been brought to light, but it certainly should be because it broke some very interesting news about the "rumored billions of dollars the oil-rich Arab nations are supposed to unload on American black leaders and minority institutions." The columnist quoted a black San Francisco lawyer who said,
"It's not just a rumor. Aid will come from some of the Arab states."
Well, if anyone would know, it would have been this lawyer — Donald Warden, who had helped defend OPEC in an antitrust suit that year and had developed significant ties with the Saudi royal family since becoming a Muslim and taking the name Khalid Abdullah Tariq al-Mansour.
Al-Mansour told Jarrett that he had presented the "proposed special aid program to OPEC Secretary-General Rene Ortiz" in September 1979, and that "the first indications of Arab help to American blacks may be announced in December." Maybe so, but I looked high and wide in newspapers in 1979 and 1980 for any other stories about this aid package funded by OPEC and never found it verified.
You would think that a program to spend "$20 million per year for 10 years to aid 10,000 minority students each year, including blacks, Arabs, Hispanics, Asians and native Americans" would be referred to somewhere other than one obscure 1979 column, but I haven't found any other word of it.
Maybe the funding materialized, maybe it didn't, but what's particularly noteworthy is that this black Islamic lawyer who "for several years [had] urged the rich Arab kingdoms to cultivate stronger ties to America's blacks by supporting black businesses and black colleges and giving financial help to disadvantaged students" was also the same lawyer who allegedly helped arrange for the entrance of Barack Obama into Harvard Law School in 1988.
That tale had surfaced in 2008 when Barack Obama was a candidate for president and one of the leading black politicians in the country — Percy Sutton of New York — told an interviewer on a Manhattan TV news show that he had been introduced to Obama "by a friend who was raising money for him. The friend's name is Dr. Khalid al-Mansour, from Texas. He is the principal adviser to one of the world's richest men. He told me about Obama." (2)
(Click link below to read more)
READ MORE
Sphere: Related Content