The kabuki theater that passes for governance in Washington D.C. reveals the profound level of ignorance shrouding this Empire of Debt in its prolonged death throes. Ignorance of facts; ignorance of math; ignorance of history; ignorance of reality; and ignorance of how ignorant we've become as a nation, have set us up for an epic fall. It's almost as if we relish wallowing in our ignorance like a fat lazy sow in a mud hole. The lords of the manor are able to retain their power, control and huge ill-gotten riches because the government educated serfs are too ignorant to recognize the self-evident contradictions in the propaganda they are inundated with by state controlled media on a daily basis.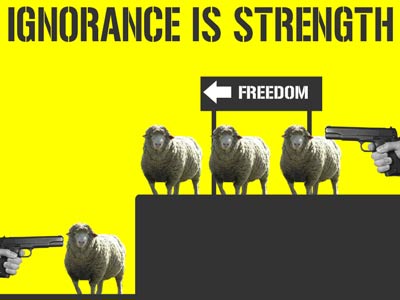 "Any formal attack on ignorance is bound to fail because the masses are always ready to defend their most precious possession – their ignorance."
- Hendrik Willem van Loon
The levels of ignorance are multi-dimensional and diverse, crossing all educational, income, and professional ranks. The stench of ignorance has settled like Chinese toxic smog over our country, as various constituents have chosen comforting ignorance over disconcerting knowledge. The highly educated members, who constitute the ruling class in this country, purposefully ignore facts and truth because the retention and enhancement of their wealth and power are dependent upon them not understanding what they clearly have the knowledge to understand. The underclass wallow in their ignorance as their life choices, absence of concern for marriage or parenting, lack of interest in educating themselves, and hiding behind the cross of victimhood and blaming others for their own failings. Everyone is born ignorant and the path to awareness and knowledge is found in reading books. Rich and poor alike are free to read and educate themselves. The government, union teachers, and a village are not necessary to attain knowledge. It requires hard work and clinging to your willful ignorance to remain stupid.
The youth of the country consume themselves in techno-narcissistic triviality, barely looking up from their iGadgets long enough to make eye contact with other human beings. The toxic combination of government delivered public education, dumbed down socially engineered curriculum, taught by uninspired intellectually average union controlled teachers, to distracted, unmotivated, latchkey kids, has produced a generation of young people ignorant about history, basic mathematical concepts, and the ability or interest to read and write. They have been taught to feel rather than think critically.
(Click link below to read more)
READ MORE
Sphere: Related Content