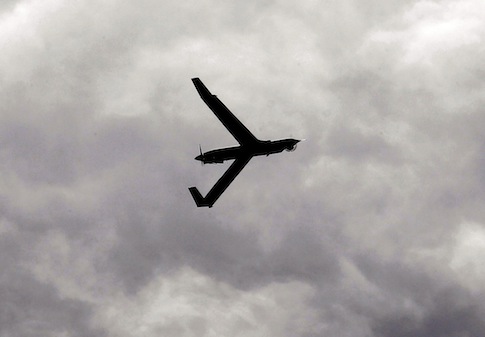 The Iranian military has given the Russian army a copy of a downed U.S. drone that was captured and disassembled by Iranian authorities in 2012, Iran's state-run media
reported
on Monday.
Iran is
believed
to have knocked down and captured a sophisticated U.S.-built ScanEagle drone in 2012. Tehran claims to have reverse-engineered the drone and has now reportedly provided one of them to the Russian military as a "gift,"
according
to the state-run Fars News Agency.
The Iranian Revolutionary Guard Corps (IRGC) also provided the Russian army with a "video showing how Iran monitors the trans-regional countries' vessels and equipment in the Persian Gulf," according to the report.
Iran claims to have captured several U.S. drones patrolling the region and vowed last year to build a domestic reproduction.
"The drone built by the IRGC is a symbol of the technical capabilities of the Islamic Iran and today we presented a real model of it as a gift to (Russian Air Force Commander) Lieutenant General Viktor Bondarev and the Russian people," IRGC Brig. Gen. Farzad Esmayeeli was quoted as saying after a meeting with Bondarev in Tehran.
Esmayeeli, who serves as commander of Iran's Khatam ol-Anbia Air Defense Base, said that he also gave the Russians a video copy of the "IRGC's monitoring of the trans-regional states' warships and equipment in the Persian Gulf," according to the report.
(Click link below to read more)
READ MORE
Sphere: Related Content