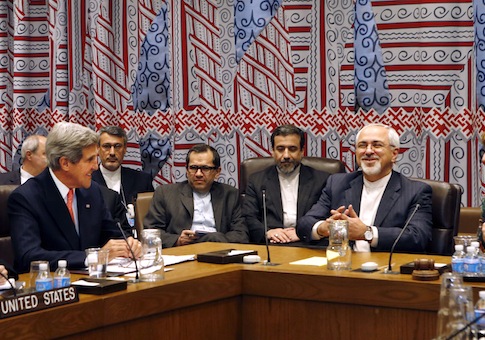 A senior Iranian military leader said on Tuesday that Iran will not acquiesce to Western nuclear negotiators and that the regime is "more distrustful than ever" of the United States, according to state-run media reports.
Western media outlets reported last week that nuclear talks between Iran and the West had ended on an "
upbeat
" note, with negotiators on both sides giving ground in a bid to reach a final deal.
However, Iranian Armed Forces Brig. Gen. Massoud Jazayeri dismissed these reports on Tuesday, stating that Iran will not be "blackmailed by the cruel West" and that the regime remains committed to pursuing its nuclear endeavors.
Jazayeri's comments come as the Obama administration considers easing sanctions on Tehran as a sign of good faith during nuclear negotiations.
"Today the Iranian nation is more distrustful of the U.S. than the past, and taking into account the performance of the U.S. administration and certain European countries, including Britain, the Iranians' suspicion of them is based on tens of strong reasonings [sic] and undisputable documents and evidence," Jazayeri was
quoted
as saying on Tuesday by Iran's state-run Fars News Agency.
(Click link below to read more)
READ MORE
Sphere: Related Content