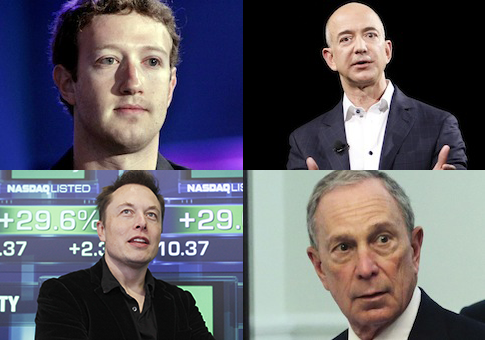 Looking for a distraction from the government shutdown and debt ceiling debate? I urge you to read
Vanity Fair
's latest advertisement for "
The New Establishment
," a list of "50 Titans Disrupting Media, Technology, and Culture," the century-old magazine's annual mash-note to the rich and powerful and self-satisfied. These disrupters innovate technologies, set the trends, define the limits of acceptable conversation in culture and politics and society, and pour money into the network of liberal foundations and Democratic campaigns around which our world is increasingly organized. They are the winners in the cognitive lottery that is the New Economy, the men and women creating and shaping, by accident and by design, the "
New Feudalism
" described so well by Joel Kotkin in
The Daily Beast.
It's good to know their names.
The members of
Vanity Fair
's new establishment include
Jeff Bezos
and Mark Zuckerberg, Elon Musk and Jack Dorsey, Sheryl Sandberg and Marissa Mayer, Cory Booker and Megan Ellison. These are the bold-faced celebrities you spot on other lists of power players, in the lush photos of parties and galas and tributes and premieres that appear in the front of the book of glossy magazines, and on the cover of
our national newsweekly
. They share a certain demographic profile. They are
people of pallor
, all but eight of them are men, they are clustered in Manhattan, Los Angeles, Silicon Valley, and Seattle, they work in technology, media, and politics, they are fantastically rich, and it is safe to assume that all but two of them share the attitudes and sensibilities, the mental luggage and politically correct language, the burnished resumes and can-do attitude of the
caste
.
(Click link below to read more)
READ MORE
Sphere: Related Content