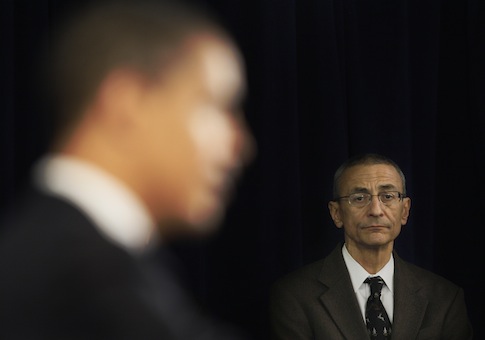 Last night the Center for American Progress celebrated its tenth anniversary with a "
Progressive Party
" at the Andrew W. Mellon Auditorium on the National Mall. Don't feel left out: I wasn't invited either.
The partygoers had reason to celebrate. Over the last decade the Center for American Progress, also known as CAP, and its political arm, the CAP Action Fund, have established themselves among the most influential policy and activist organizations in America. CAP has
revenues
of $34 million. Its alumni occupy positions inside the Obama administration, in media, in business, and in the academy. Speakers at its policy conference this week included cabinet secretaries Kerry, Perez, and Lew; the presidents of the NAACP and the SEIU; the two liberal hosts of
Crossfire
; the leaders of left-wing parties in Canada and Australia; and Al Gore. President Obama, President Clinton, Nancy Pelosi, and Harry Reid all said nice things about CAP in its
anniversary video
. From its headquarters
on H Street
, in downtown D.C., CAP exerts a pull over the Democratic Party like no other liberal institution. The right has no equivalent.
CAP's power flows from two sources. The first is structural: John Podesta, CAP's founder, is an expert at combining the Democratic Party platform with favor trading. He separated the tax-deductible, educational side of his think tank from the tax-exempt, political side. He lined up support from George Soros, from subprime mortgage kingpins
Herb and Marion Sandler
, from the secret donors behind the
Democracy Alliance
. He created a
Business Alliance
that solicited corporate and foreign contributions in exchange for "network-building" and "policy education" and other euphemisms for lobbying. Members of the Business Alliance reportedly include Boeing, GE, Goldman Sachs, Comcast, Walmart, and the Confederation of Businessmen and Industrialists of Turkey—you know, the little guys.
(Click link below to read more)
READ MORE
Sphere: Related Content