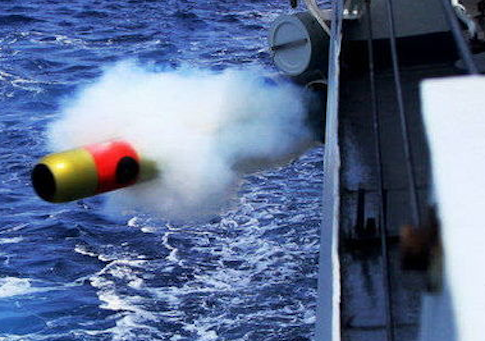 China's navy recently conducted a test of a new high-speed maneuvering torpedo that poses a threat to U.S. ships and submarines.
Defense officials said the new torpedo is the latest example of what the Pentagon calls Beijing's anti-access, area-denial, or AA/AD, high-tech weaponry.
Other new weapons include China's recently deployed anti-ship ballistic missile, the DF-21D, which is designed to sink U.S. aircraft carriers far from China's shores.
China's military showcased last month another high-tech weapon designed to target Navy ships and submarines. U.S. submarines are considered one of the U.S. military's most important counter weapons to the AA/AD threat.
The torpedo test was disclosed on a Chinese blog, a frequent outlet for official leaks of new weapons systems in the Chinese arsenal.
The blog Tencent, one of China's largest online outlets, revealed Oct. 15 that China's navy conducted an underwater test launch of a new precision-guided, maneuvering torpedo in the South China Sea.
(Click link below to read more)
READ MORE
Sphere: Related Content