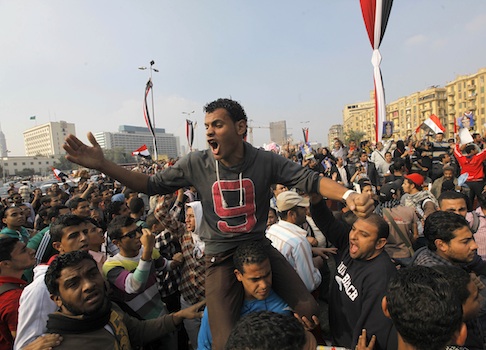 Georgetown University is scheduled to host an event on Egypt that features a member of Egypt's Nazi Party.
Georgetown University's Prince Al Waleed Bin Talal Center for Christian Muslim Understanding is scheduled to host a Dec. 5
event
on "Egypt and the Struggle for Democracy."
The event features a slew of
speakers
sympathetic to the Muslim Brotherhood, as well as Coptic Christian Ramy Jan, who
cut his teeth
on the Egyptian political scene as a member of the country's Nazi Party, according to multiple sources.
The event is scheduled to take place all day at Georgetown's ICC auditorium and feature a keynote address by Rep. Keith Ellison (D., Minn.).
In addition to Jan, a who's who of Muslim Brotherhood-affiliated speakers are
scheduled
to be flown in from Egypt to attend and participate in the forum, which includes multiple panel discussion about Egypt's recent coup and the current state of the country's democracy.
Egypt experts criticized both Georgetown and event organizers for holding an event that will primarily feature pro-Muslim Brotherhood propaganda under the guise of free and open discussion.
They also expressed surprise at the inclusion of Nazi Party member Jan, who was featured in a
2011 documentary
on the Nazi Party's "pursuit of world supremacy for the Egyptian race."
(Click link below to read more)
READ MORE
Sphere: Related Content