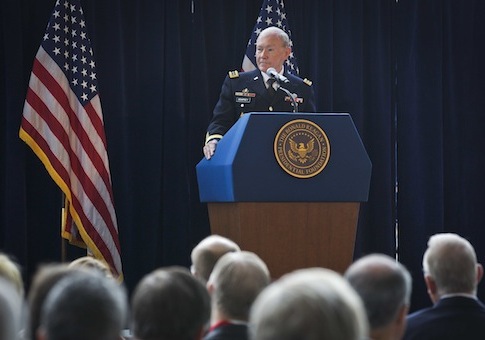 The uncertainty of U.S. defense spending is undermining the ability of U.S. military forces in Asia to maintain stability amid a growing military buildup by China, according to the chairman of the Joint Chiefs of Staff.
Gen. Martin Dempsey said he is concerned about the readiness of U.S. forces in the Pacific and the slow pace of rebalancing U.S. forces to the region to meet the challenge posed by China's growing military forces.
The four-star general was asked following a speech to the Reagan National Defense Forum in California on Saturday to comment on one of the key conclusions of a forthcoming congressional report on China.
The U.S. China Economic and Security Review Commission, in a report set for release today, warns that U.S. efforts to strengthen ties with allies in Asia is threatened by the combination of China's military buildup combined with sharp U.S. defense cuts.
"China's military modernization, coupled with the potential decline in U.S. power caused by sequestration, is altering the balance of power in the region and reducing the deterrent effect of the rebalance policy," the report says. "The risk is therefore increasing that China's coercive approach to its sovereignty claims will lead to greater conflict in the region."
Asked about that conclusion and if he is concerned with the military's ability to deal with conflict in Asia and to have forces ready, Dempsey said: "Sure."
(Click link below to read more)
READ MORE
Sphere: Related Content