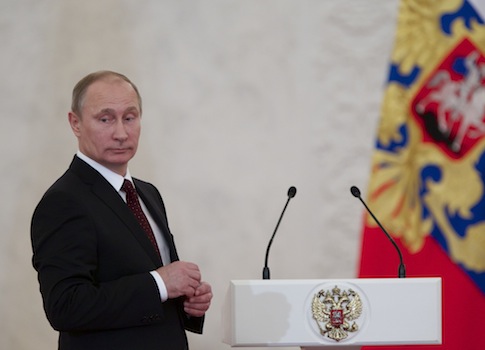 Russian President Vladimir Putin will visit Egypt later this month as part of a push by Moscow to replace the United States as the Egyptian military's main patron.
The visit will take place after the Obama administration last month angered Egypt's military by cutting deliveries of U.S. military arms and aid at a time when the military-dominated interim government is engaged in battles against Islamist terrorists in the Sinai Peninsula, and an insurgent Muslim Brotherhood opposed to the ouster of President Mohammad Morsi last summer.
According to U.S. officials, Putin will visit Cairo where he is expected to announce a major arms sales package as part of efforts to build closer military relations.
Egyptian diplomats visited Moscow last week to discuss the Putin visit to Cairo. News reports from the Egyptian capital said that Russia will resume arms sales, including advanced weaponry, following a cutoff of U.S. arms last month.
It would be the first time since the 1970s that Moscow will regain the foothold it lost in its close ties to Egypt when Egyptian President Anwar al Sadat expelled Soviet military advisers and ended purchases of Russian arms.
(Click link below to read more)
READ MORE
Sphere: Related Content