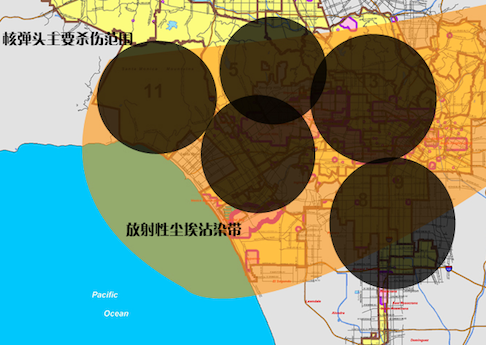 The Obama administration declined to comment on Sunday to provocative state-run Chinese media reports outlining Beijing's nuclear war plans, including land-based and submarine-launched missile strikes on U.S. cities that would kill up to 12 million people.
State Department spokeswoman Marie Harf and Pentagon spokeswoman Cynthia Smith would not respond when asked about the highly unusual Chinese reports published Oct. 28 in numerous major Communist Party-controlled television and newspaper outlets.
The Chinese reports included maps showing nuclear strikes on Los Angeles and the Pacific Northwest, along with the resulting radiation plumes stretching thousands of miles across the western United States.
Global Times
, viewed as China's most xenophobic anti-U.S. media outlet, stated in its report that "the 12 JL-2 [submarine-launched ballistic missile] nuclear warheads carried by one single Type 094 SSBN can kill and wound 5 million to 12 million Americans." The newspaper is a subsidiary of the People's Daily, the organ of the Central Committee of the Chinese Communist Party.
Harf referred questions about the attack scenarios to the Pentagon, where Smith would not comment directly, despite the fact that a key mission of the Pentagon is to deter nuclear attacks like those outlined in the Chinese press.
(Click link below to read more)
READ MORE
Sphere: Related Content