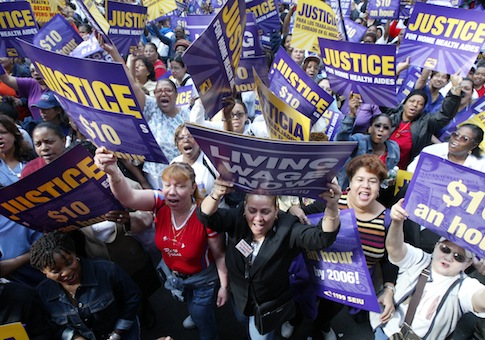 The election of pro-union Democrats to executive positions in New York and Virginia could boost the labor agenda, according to labor watchdogs.
Terry McAuliffe defeated Republican Ken Cuccinelli on Tuesday 48 percent to 45.5 percent in Virginia's gubernatorial race. McAuliffe, one of the Democratic Party's premier fundraisers over the past two decades, outraised and outspent Cuccinelli with the help of an outpour of cash from organized labor.
He received
more than
$2.5 million from unions as the race drew to a close, according to state campaign filings. McAuliffe tripled his union donations from his
2009 gubernatorial run
.
Having a Democratic governor in Richmond is a good investment for labor groups, according to Fred Wszolek, spokesman for the Workforce Fairness Institute.
"No one has been a better bag man for union money than Terry McAuliffe," he said. "He's going to bide his time, but he'll eventually hand the keys to the capital to unions. Virginia doesn't know what it's getting here."
Virginia is a right to work state and does not allow coercive union representation. Organized labor has been trying to undermine the law for years, according to National Right to Work Foundation spokesman Patrick Semmens.
"Terry McAuliffe … refuses to answer the national right to work survey which asks first and foremost if he will defend Virginia's popular right to work law," he said. "McAuliffe's victory will be a bad sign for independent employees who wish to remain free from union ranks."
(Click link below to read more)
READ MORE
Sphere: Related Content