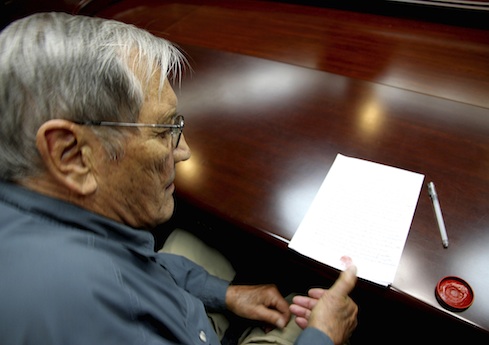 The arrest and detention of American Korean War veteran Merrill E. Newman highlights North Korea's holding of other prisoners of war who were part of a secret Army unit running covert operations inside North Korea, according to a specialist on the conflict.
Mark Sauter, a journalist and historian who has studied the Korean conflict and Americans held there, said Newman's special forces unit, the 8240th Army Unit, trained and armed anti-communist guerrillas that operated inside the Northeast Asian country and probably continued to do so after the ceasefire of July 1953.
Newman was detained Oct. 26 after mentioning to a North Korean guide during a visit to Pyongyang that he needed help locating members of an anti-communist partisan group he ran during the war, according to a Pyongyang government statement.
The mention of such a request likely triggered the arrest by the North Koreans who remain technically at war with South Korea and thus have made Newman the latest prisoner of war (POW) from the conflict.
"It's a terrible irony that America's newest Korean War POW is linked to some of best-known unreturned U.S. prisoners from the war—the so-called Ashley Five," Sauter said in an interview. "Newman has just been imprisoned. The Ashley Five were captured in 1953 and never returned."
(Click link below to read more)
READ MORE
Sphere: Related Content