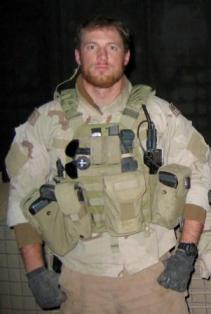 Aaron Carson Vaughn was an All-American kid who became the best of the best, one of the most skilled warriors in history.
He was a highly decorated member of the elite Navy SEAL Team 6, but he was killed in Afghanistan under suspicious circumstances.
According to his father, Aaron's life was squandered by a president who was more concerned with appeasing the enemy, and even our allies, than protecting those serving under his command.
Billy Vaughn also believes his son is dead because the Obama administration put a target right on the back of SEAL Team 6.
That's why the title of Billy's book about his son is
"Betrayed
."
Former Rep. Allen West, a retired U.S. Army lieutenant colonel, called it a "must read."
Retired Lt. Gen. Jerry Boykin described the book as "a fascinating story of incredible courage and sacrifice, government deceit and the changing nature of warfare."
And syndicated columnist Diana West wrote, "Betrayed takes aim at the lies and secrecy of a government no longer true to the American people — not even to the families whose sons have paid the ultimate price."
(Click link below to read more)
READ MORE
Sphere: Related Content