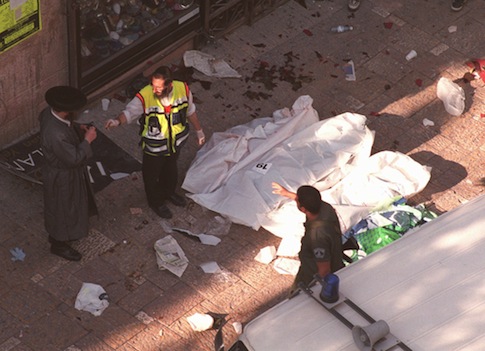 A U.S. district court has awarded millions in Iranian government funds to five American families who were victims of an Iranian-backed suicide bombing, despite objections from Tehran and the U.S. Department of Justice.
The Nov. 27
ruling
, which allows the American victims of a 1997 terrorist attack in Jerusalem to recover more than $9 million from a U.S.-based defense contractor that worked with Iran, was hailed as a precedent-setting case by the victims' legal counsel.
"After more than ten years of litigation in the federal court in San Diego, these victims and their families were awarded a Hanukah victory against the Iranian Ministry of Defense and will soon actually recover more than $9 million in funds!" said Israeli legal group Shurat HaDin, which represents the victims, in a statement on Monday.
The victims were initially awarded $70 million in damages by a D.C. court in 2003. According to Shurat HaDin, the victims attempted to collect part of the settlement through a lien on frozen Iranian funds held by Cubic Defense Systems Inc., which had worked with the Iranian government before the 1979 Iranian Revolution.
The Iranian Ministry of Defense argued that the collection efforts were a violation of its sovereign immunity as well as its Algiers Accord agreement with the U.S. government. The U.S. Department of Justice also filed an amicus brief
arguing
that the Iranian government was not liable for the Cubic Defense Systems Inc. assets.
(Click link below to read more)
READ MORE
Sphere: Related Content