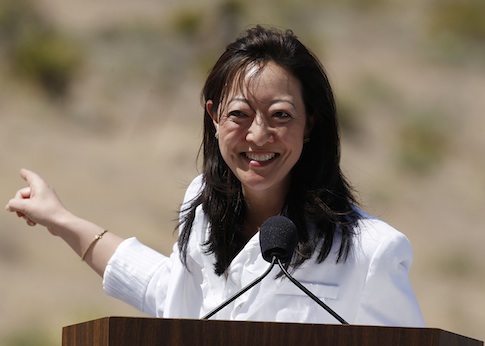 A nominee for a top post at the Interior Department helped create a financing apparatus that has steered hundreds of millions of dollars to some of the nation's most prominent environmentalist groups.
President Barack Obama
nominated
Rhea Suh in October to lead Interior's fish and wildlife and parks division, which oversees the National Park Service and the U.S. Fish and Wildlife Service.
Suh has been Interior's assistant secretary for policy, management, and budget since 2009. Before joining the administration, she worked at a number of left-wing foundations whose support for radical environmentalist groups has some senators concerned that she would work to stymie fossil fuel production if confirmed.
"Given your lifetime of funding activist groups opposing natural gas production, how can the members of this committee suddenly expect you to change your views if you're confirmed?"
asked
Sen. John Barrasso (R., Wyo.) at a confirmation hearing on Monday.
Suh would not have direct control over federal policy as it relates to natural gas extraction. However, she could obstruct energy projects in other ways by, for example, classifying species as endangered.
(Click link below to read more)
READ MORE
Sphere: Related Content