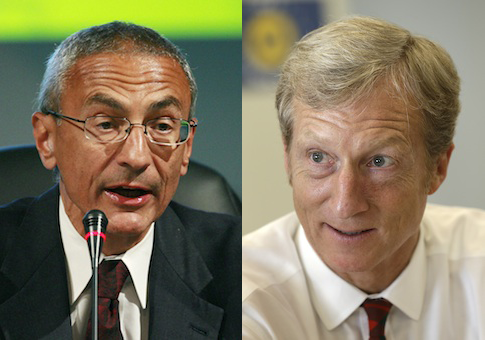 The White House's newest staffer is
John Podesta
, the 64-year-old founder of
the Center for American Progress
(CAP), the head of President Obama's 2008 transition team, a former chief of staff to President Clinton, and a former lobbyist and cofounder, with his brother
Tony
, of the
Podesta Group
. You know: an outsider.
Podesta is joining the administration for one year as White House counselor specializing in energy policy. And despite the fact that he has done more than any other unelected official to shape the policies of
cap-and-trade
and
green energy subsidies
, and to
employ and place the talent
that has attempted to implement those policies during the Obama presidency, the White House assures us that he will never, never have any say in whether the Keystone Pipeline, slow-walked by this president for years, is approved or denied.
"John suggested that he not work on the Keystone Pipeline issue," a White House aide
emailed Ryan Lizza of the New Yorker
, "in review at the State Department, given that the review is far along in the process and John's views on this are well known." Podesta opposes the pipeline, vociferously, because he says it will exacerbate global warming. But if his opposition to Keystone disqualifies him from working on the issue in the West Wing, wouldn't that also be a problem for
his seat on the Foreign Affairs Policy Board at the State Department
, where the pipeline issue is "in review"? Or for his seat on
the Secretary of Energy Advisory Board
, which must have discussed the pipeline at some point? And does anyone besides the gullible greens at Credo Action, the political arm of a cell phone company that provides its customers feelings of moral superiority, really believe Podesta will be "silenced" when it comes to "
what may be the single most closely watched decision of the Obama presidency
"? Does anyone who has ever interacted with Podesta or his brother believe either man is
capable
of silence?
The recusal controversy is a joke. There isn't any need for Podesta to "work" on the "Keystone Pipeline issue" because everyone in the White House,
which he has visited some 130 times since 2009
, knows where he stands on it. His work is already done.
(Click link below to read more)
READ MORE
Sphere: Related Content