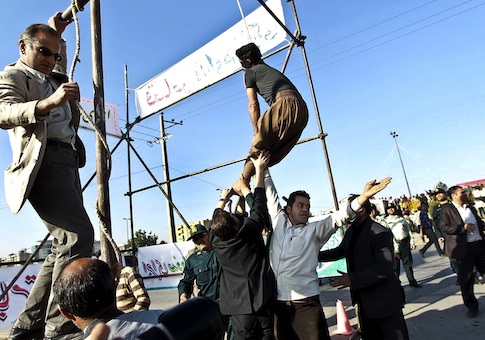 Iran has executed 529 people this year, including more 300 since President Hassan Rouhani assumed office in August, according to a
tally
compiled by the Iran Human Rights Documentation Center (IHRDC).
The number of executions have significantly
spiked
since Rouhani took office, leading some to
argue
that this clashes with his image as a moderate reformer.
Iran now has the dubious honor of being the global leader per capita in executions, according to the IHRDC.
The sharp spike in killing has
prompted criticism
from some observers who say that the United States and other Western nations are ignoring Tehran's massive human rights infractions in order to facilitate Iran's approval of a final nuclear accord.
"Under the shadow of negotiations, however, Iran's
appalling human rights situation
has hardly changed," Iranian activists Payam Akhavan and Shirin Ebadi wrote in a recent
Washington Post
op-ed.
Executions have actually increased as Tehran engages in talks with the West, according to Akhavan and Ebadi.
(Click link below to read more)
READ MORE
Sphere: Related Content