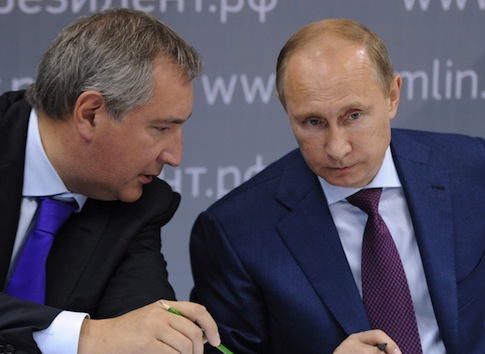 Russia's deputy prime minister on Thursday threatened to use nuclear weapons against the United States and its allies should they attack Moscow, even if they use conventional weapons.
Russian Deputy Foreign Minister Dmitry Rogozin threatened the nuclear option while speaking before Russian lawmakers about a new U.S.-developed defense system that can strike around the world "
within minutes
," according to
multiple
Russian
language
news reports.
Rogozin appeared to be reacting to U.S. plans to deploy the Conventional Prompt Global Strike (CPGS) system, a space-controlled missile system capable of firing non-nuclear weapons at a global target in a manner of minutes.
"One can experiment as long as one wishes by deploying non-nuclear warheads on strategic missile carriers," Rogozin said according to Russian newspapers,
including
the state-run outlet RT. "But one should keep in mind that if there is an attack against us, we will certainly resort to using nuclear weapons in certain situations to defend our territory and state interests."
Russian military doctrine dictates that nuclear weapons can be used against those who strike first with conventional arms, according to Rogozin.
"We have never diminished the importance of nuclear weapons—the weapon of requital—as the great balancer of chances," Rogozin was quoted as saying.
Rogozin's comments came after the country's foreign minister, Sergei Lavrov, was in Iran for a series of high-level meetings about ways in which the two nations can boost their ties.
(Click link below to read more)
READ MORE
Sphere: Related Content