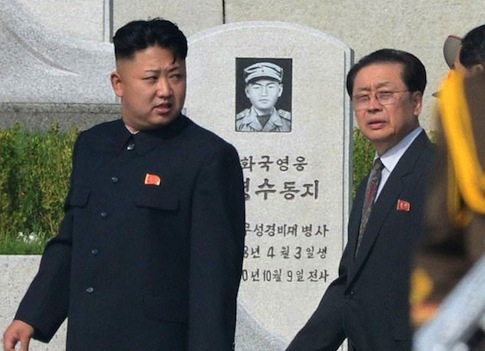 A key power broker within North Korea's family dictatorship was reportedly ousted on Tuesday, a move that indicates new signs of instability within the reclusive, nuclear-armed communist state.
Jang Song Taek, a vice chairman of the powerful National Defense Commission and uncle of leader Kim Jong Un, is believed to have been removed from his positions of power in the North Korean party and military structure, U.S. and Western diplomatic sources said.
The ouster followed the execution of two Jang aides, signs of a major shake up in the power structure. He was considered to be the de facto second-in-command to Kim.
North Korean state media made no mention of Jang's position.
An intelligence source said Jang has had an up-and-down career since the 2000s and gained power after Kim Jong Il's death in December 2011.
His public profile sharply declined this year after the State Security Department launched an investigation into Jang's closest associates as part of a corruption scandal.
The two aides were executed in late November and were identified as Lee Yong Ha, a first deputy in the Party Administrative Department headed by Jang, and Jang Soo Gil, a deputy director in the department.
(Click link below to read more)
READ MORE
Sphere: Related Content