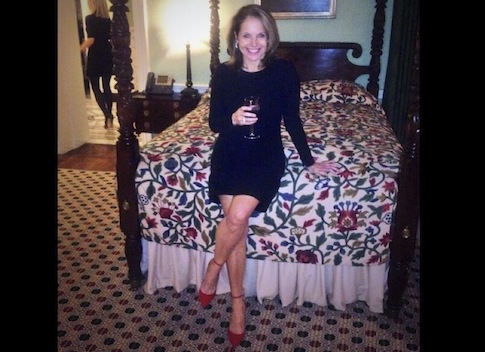 I am fascinated by two recent tweets from Katie Couric. The talk show host recently visited Gracie Mansion in New York City, where mayor-elect Bill de Blasio will live beginning Jan. 1. Couric likes de Blasio, and is eager for him to start his job. One tweet from Gracie Mansion showed Couric
sitting atop a four-poster bed
, one hand resting on the quilt-cover, the other clutching a wine glass. She is dressed in black, her hair and makeup are perfect, and her crossed legs display a striking pair of red pumps. "Mayor de Blasio will sleep here!" she wrote. A minute later Couric tweeted
a second photo
, in which she assumed the same pose atop a porcelain freestanding bathtub, surrounded on three sides by marble wainscoting, one of her haute pumps resting on a mosaic floor. "… And bathe here!" she wrote excitedly. Maybe you had to be there.
I cannot look away from these images because they capture, in minute and pixelated detail, the very thing against which de Blasio campaigned: The privileged
multimillionaire
, impeccably outfitted and adorned, with white teeth and a healthy tan, lounging in the intimate interiors of the powerful, separated by income and status and physical environment from her social inferiors. De Blasio won his office, and his ornate lodgings, by a stunning margin precisely because he persuaded New Yorkers, including Katie Couric, that rich and poor live in two unequal cities, and that with the effective use of government power the two cities could be made to more closely resemble one another. Couric, however, shows no sign of feeling implicated in the social injustices that her new mayor deplores. Her conscience is as spotless as that porcelain bathtub.
It's a funny thing about the inequality debate that has consumed the American intelligentsia for the past several years: The individuals who are most interested in identifying, describing, diagnosing, and addressing the phenomenon of income inequality are the individuals least affected by it.
(Click link below to read more)
READ MORE
Sphere: Related Content