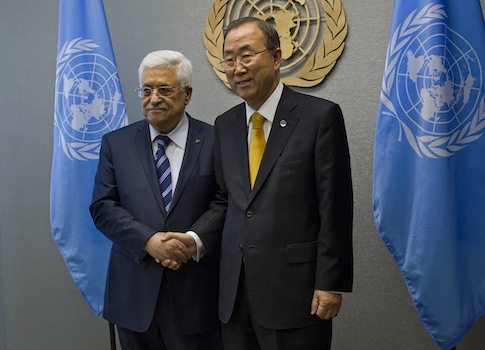 The United Nations overwhelmingly voted to declare 2014 the "International Year of Solidarity with the Palestinian People" during an unprecedented vote that human rights observers say was marred by anti-Israel fervor.
The U.N.'s General Assembly (UNGA)
voted
110 to 7 to approve the resolution on Nov. 26, just a day after the measure was put forth during a controversial series of meetings to mark 2013's "International Day of Solidarity with the Palestinian People."
While the U.N. holds a Palestinian solidarity day each year, this is the first time that it has voted to dedicate an entire year to what it describes as the plight of the Palestinian people.
The General Assembly adopted at least three other
resolutions
that targeted Israel on the same day.
Jewish groups worry that the U.N. will now see a massive uptick in anti-Israel activity in 2014, as the Palestinian rights committee assumes unilateral control over meetings and events that can take place under the auspices of the solidarity year.
The 2014 resolution was passed just one day after a prominent Jewish human rights institute
was controversially barred
from attending events held on behalf of the 2013 day of Palestinian solidarity.
(Click link below to read more)
READ MORE
Sphere: Related Content