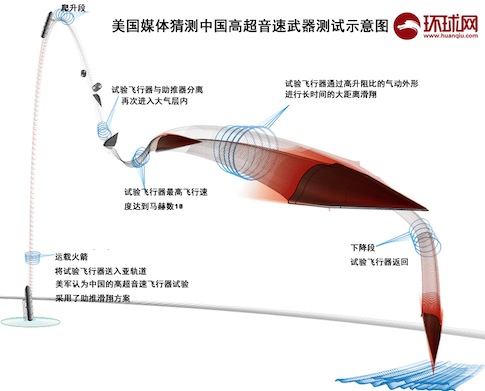 China's Defense Ministry on Wednesday confirmed that weapons designers recently conducted the first test of an ultra-high speed missile vehicle considered cutting edge military technology.
In a two-sentence statement faxed to news agencies and state-run media in Beijing, the ministry confirmed the flight test of a new hypersonic glide vehicle.
U.S. defense officials said the test of what the Pentagon is calling the WU-14 hypersonic glide vehicle took place Jan. 9 over China.
The ministry confirmed the test after it was
first reported
by the
Washington Free Beacon
Jan. 13.
"Our planned scientific research tests conducted in our territory are normal," the ministry said in the statement. "These tests are not targeted at any country and at any specific goals."
China military affairs analysts said the hypersonic vehicle test represents a major milestone in China's military buildup of weapons it calls "assassin's mace" arms—weaponry designed to allow a weaker power to defeat a stronger one.
Officials familiar with some details of the hypersonic glide vehicle test said the high-speed glider appears designed to fit on top of an intercontinental ballistic missile. Using that booster, the vehicle is lofted to a height of 62 miles or less and then released. It then maneuvers at speeds as high as Mach 10, or 7,680 miles per hour, to its target.
(Click link below to read more)
READ MORE
Sphere: Related Content