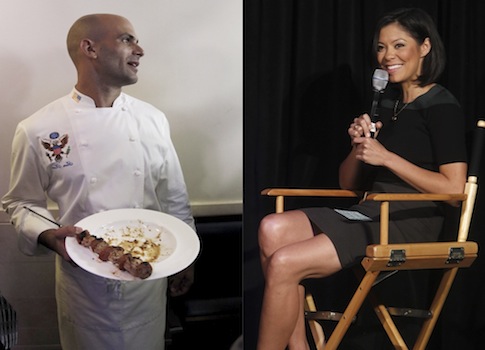 The first time he saw her from a distance. She was a reporter, observing his workplace from the outside. He was struck by her good looks, her energy. He mentioned her to a friend, who told him she was out of his league. But he persisted. His friend brought him to a party where he found an opportunity to strike up a conversation with her. One thing led to another. He took her to drinks. She mentioned she liked baseball, rooted for the Washington Nationals. They had that in common. So for their next date he took her to play catch. In Nationals Park. When it was closed to the public.
Not an ordinary love story. But then these are not ordinary lovers. He is Sam Kass,
executive director of Michelle Obama's Let's Move health initiative
, senior policy adviser for nutrition policy, and food initiative coordinator in Barack Obama's White House. She is Alex Wagner,
host of "Now with Alex Wagner" on MSNBC
, weekdays at 4 p.m. Kass's friend is
Richard Wolffe
, the executive editor of MSNBC.com, a political analyst for MSNBC, and the author of
Renegade: The Making of the President
,
Revival: The Struggle for Survival Inside the Obama White House
, and
The Message: The Reselling of President Obama
. The shindig where the couple started talking was MSNBC's annual White House Correspondents' Dinner after-party, the invitation-only event where Rachel Maddow mixes cocktails to demonstrate her working girl credentials. The bar where Kass and Wagner had drinks was
Monkey Bar
, in midtown Manhattan, where you can pair a $17 glass of Sauvignon Blanc with a $26 organic chicken paillard. They are planning a summer wedding.
I learned all of these details in the February issue of
Vogue
, in an article with this stammering headline: "
The Talk of the Town: Alex Wagner and Sam Kass—Politics' It Couple
." The article was written by Jacob Weisberg, chairman and editor-in-chief of the Slate Group. According to his biography on the Leigh Speakers Bureau website, Weisberg is "
one of America's most prominent writers on politics and policy
," which pretty much says it all about the state of American writing on politics and policy.
(Click link below to read more)
READ MORE
Sphere: Related Content