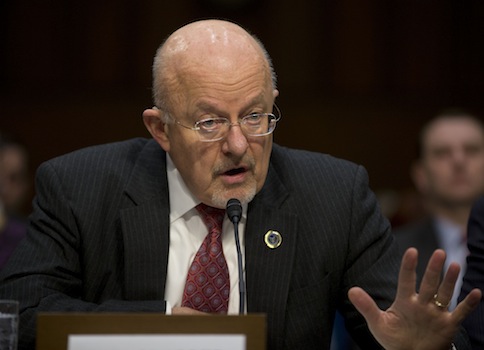 China and Russia pose significant threats to U.S. cyber and space systems, the director of national intelligence (DNI) told Congress on Wednesday.
James Clapper, the DNI, stopped short of saying both states are engaged in cyber attacks against the United States in a prepared testimony to the Senate Select Committee on Intelligence.
However, in a carefully worded assessment submitted as part of the annual threat assessment briefing, Clapper indicated that Russia and China are the main challenges in both the cyber domain and space arena.
In response to senators' questions during the hearing, Clapper said that "foreign nation-states, principally China and Russia, … are the most sophisticated, [and] represent the most sophisticated cyber capabilities against us."
Chinese cyber operations were described as reflecting the Chinese Communist leadership's priorities of economic growth, domestic political stability, and military preparedness, he said.
Clapper said Chinese cyber attacks were an "expansive worldwide program of network exploitation and intellectual property theft."
"Russia presents a range of challenges to U.S. cyber policy and network security," Clapper said in his prepared statement. "Russian intelligence services continue to target U.S. and allied personnel with access to sensitive computer network information."
China and Russia also were identified in the testimony as preparing for space warfare, what Clapper called "counterspace."
(Click link below to read more)
READ MORE
Sphere: Related Content