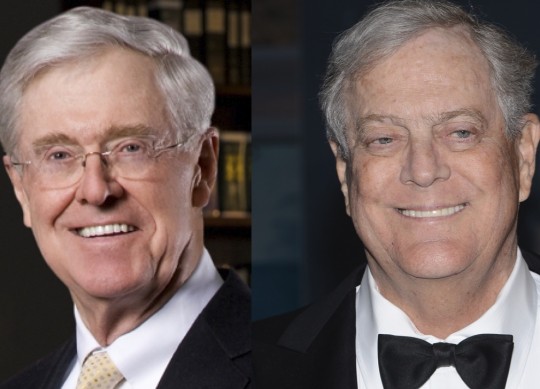 Beleaguered, adrift, defensive, angry, eager to escape from attacks on Obamacare, President Obama and his allies have a secret weapon with which to rally their base. This voice-activated device is incredibly easy to use. One need only utter the words "Koch brothers," and the financial apparatus of the Democratic Party begins to whir.
Connecting the billionaires of the
Democracy Alliance
to the labor, green, and race groups of the
Democracy Initiative
, linking the trial lawyers and Hollywood producers to the DNC and campaign committees, tying in the bumper-sticker activists to Ready for Hillary, the Democratic money machine generates a lot of energy indeed. Emails are sent. Articles are written. Checks are cut. And the Democratic Senate might survive Election Day 2014.
The weapon was put to use on Dec. 19 when Organizing for America, the White House advocacy group, sent a mass email with the following subject line: "Team Obamacare … or Team Koch Brothers?" Here, after more than two months of bad news for President Obama's signature law, was the last play of the Obamacare supporter. "Health care reform is helping millions of Americans today," the email said. "But people like the Koch Brothers are trying to take it away. Which side are you on?"
Healthcare.gov may be broken, insurance plans may have been cancelled by the millions, enrollments may be lower than expected, the ratio of old to young and sick to healthy customers may yet cripple the program, but at least the president is opposed to a pair of septuagenarian libertarian billionaires living in Wichita and New York. You too can show your dislike of these senior citizens, and join "the group that's fighting back—every single day," all for the affordable price of $15 or $1,000 or, if you are feeling generous, some "other amount." As a 501(c)4 nonprofit, Organizing for America can receive unlimited contributions. So pony up.
I was reminded of the Organizing for America solicitation the other day when I read in the paper that "
Ads Attacking Health Law Stagger Outspent Democrats
." The article, by Carl Hulse, reported that "since September, Americans for Prosperity, a group financed in part by the billionaire Koch brothers, has spent an estimated $20 million on television advertising that calls out House and Senate Democrats by name for their support of the Affordable Care Act."
(Click link below to read more)
READ MORE
Sphere: Related Content