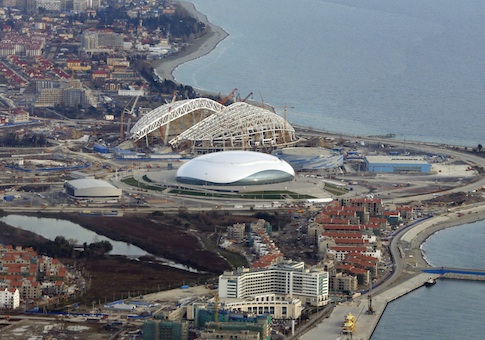 Terrorists with a North Caucasus Islamist group are promising to carry out suicide bomb attacks at the upcoming Olympic games in Sochi next month, including chemical arms strikes.
The Russian terror group Caucasus Emirate, also known as Imarat Kavkaz, is believed to have jihadists in place within Sochi who are ready to strike during the games, set to begin Feb. 7, said U.S. officials with access to intelligence.
New threats of terror attacks on the games were made in a video released last week revealing two terrorists and a bomb-maker behind the recent suicide bombings in Volgograd, some 600 miles northwest of Sochi. The blasts killed 34 people and injured scores more.
According to the officials, the Jan. 19 video provided disinformation linking those blasts to a previously unknown group identified in the film as "Ansar al-Sunna." Officials said the group is actually part of the Dagestani terrorist group Caucasus Emirate.
U.S. officials say the unconfirmed reports that the group's leader Doku Umarov was killed are not expected to lessen the threat of terrorist attacks by his group on the winter games.
The group's clandestine and decentralized structure allows it to operate despite the death or capture of its leaders, the officials said. They added that plans for attacks on Sochi probably were planned months ago.
A statement by the Caucasus Emirate posted on the official website VDagestan.com Jan. 18 was signed by the leader of a group affiliated with the Caucasus Emirate, Emir Umar, who threatened further attacks like those in Volgograd unless Russia withdraws military and security forces from the Caucasus region.
(Click link below to read more)
READ MORE
Sphere: Related Content