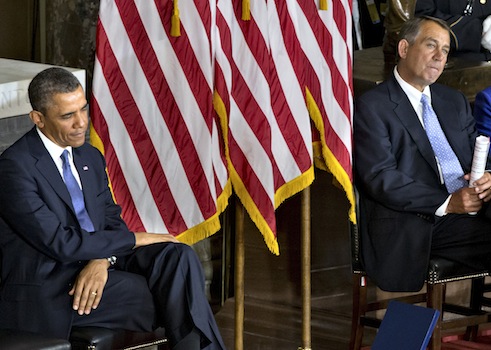 The White House has been exploring ways to circumvent Congress and unilaterally lift sanctions on Iran once a final nuclear agreement is reached, according to sources with knowledge of White House conversations and congressional insiders familiar with its strategy.
The issue of sanctions relief has become one of the key sticking points in the Iran debate, with lawmakers pushing for increased economic penalties and the White House fighting to roll back regulations.
While many in Congress insist that only the legislative branch can legally repeal sanctions, senior White House officials have been examining strategies to skirt Congress, according to those familiar with internal conversations.
Sen. Mark Kirk (R., Ill.), who is leading the charge on new sanctions legislation, said that it is unacceptable for the White House to try to bypass Congress on such a critical global issue.
"The American people must get a say in any final nuclear agreement with Iran to ensure the mullahs never get the bomb," Kirk told the
Washington Free Beacon
. "The administration cannot just ignore U.S. law and lift sanctions unilaterally."
Congressional insiders say that the White House is worried Congress will exert oversight of the deal and demand tougher nuclear restrictions on Tehran in exchange for sanctions relief.
(Click link below to read more)
READ MORE
Sphere: Related Content