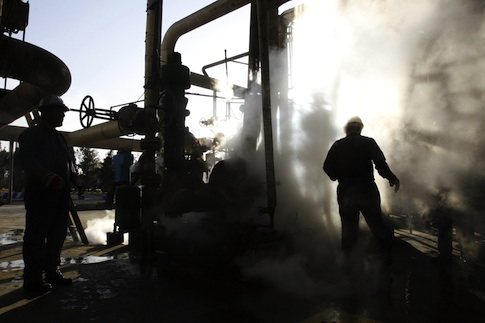 China has emerged as Iran's top trading partner, with non-oil trade hitting $13 billion over the past 10 months, according to Iranian media.
Iran's exports to China rose by nearly 35 percent over the time period, with Iran exporting some $5.9 billion in non-oil-related goods, according to a
report
by Iran's Customs.
Iranian imports from China topped $7 billion, according to the report, which provides further evidence that Iran's economy has been on the rebound since it began engaging in talks with Western nations over its contested nuclear program.
China has long been Iran's top crude oil client and has been accused of participating in a
plot to smuggle
the heavily sanctioned product out of Tehran. Chinese-Iranian oil deals topped $13 billion in the past months, according to the report.
Iran's total non-oil exports topped
$37 billion
in total over the past 11 months, a 15 percent rise over the previous year, when sanctions were at their most stringent level. This included more than
$550 million
in trade with the United States, according to Iranian officials.
More than 23 percent of Iran's non-oil exports went to China, while nearly 20 percent of China's exports went to Tehran, according to the new report.
Iran's top exports to China included "iron ore, methanol, propane, polyethylene, styrene, butane, ethylene-glycol, paraxylene, chrome stone, marble, oil and mineral seals, [and] purified cupper," according to the Iranian Students' News Agency.
(Click link below to read more)
READ MORE
Sphere: Related Content