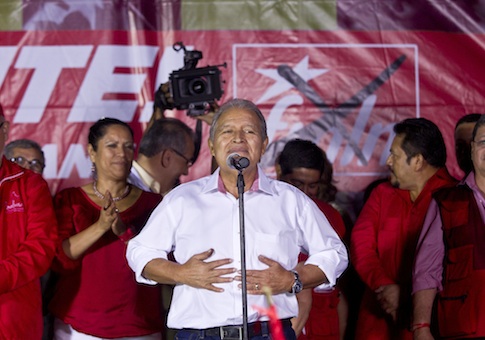 El Salvador could morph into another Venezuela if the current ruling party retains control in presidential runoff elections next month, a leading expert on the region tells the
Washington Free Beacon
.
Roger Noriega, former assistant secretary of state for Western Hemisphere affairs in the George W. Bush administration, said in an interview that the Farabundo Martí National Liberation Front (FMLN), which currently has control of the country, reportedly has
ties
to regional drug traffickers, violent gangs in the country, and Venezuela's regime.
The FMLN's Salvador Sanchez Ceren
nearly won
the elections outright earlier this month after garnering almost 49 percent of the vote. Norman Quijano of the conservative Nationalist Republican Alliance (ARENA) finished in second with nearly 39 percent. The two will face off in a March 9 runoff election.
Noriega, now a fellow at the American Enterprise Institute (AEI), said Sanchez Ceren represents the hardline, guerrilla faction of the leftist FMLN movement that
emerged
as a political party after El Salvador's bloody civil war in the 1980s. El Salvador's current president, Mauricio Funes from the FMLN, is viewed as more of a moderate.
El Salvador hosts a U.S.-run anti-drug-trafficking facility and an international law enforcement academy. Both could be imperiled by an FMLN victory due to the party's documented links to local and transnational criminal groups, Noriega said.
(Click link below to read more)
READ MORE
Sphere: Related Content