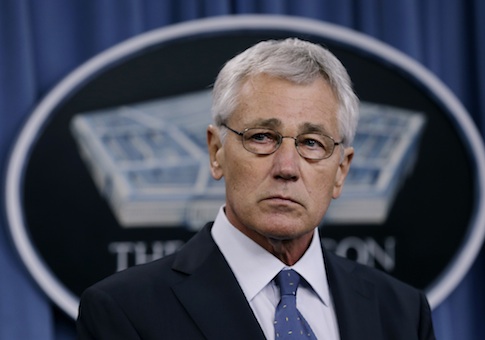 President Barack Obama will sharply cut ships, aircraft, and troops as part of a major reduction of U.S. military forces that will face even steeper downsizing in 2016, Defense Secretary Chuck Hagel announced on Monday.
The defense cuts, to be announced formally in the president's budget proposal next month, would reduce U.S. ground forces to their lowest level since World War II at a time when world threats are increasing.
The defense secretary outlined the dramatic reductions in a briefing for reporters at the Pentagon. They include significant cuts in Navy shipbuilding and Air Force aircraft purchases, and a 20 percent reduction in Army ground forces.
Several new weapons systems will be slashed and older weapons retired.
The military cutbacks have been a central feature of Obama's policies since 2009. According to former Defense Secretary Robert Gates, in his recently published book
Duty
, since entering office, the president has worked to cut U.S. defenses in order to use the funds for domestic programs.
(Click link below to read more)
READ MORE
Sphere: Related Content