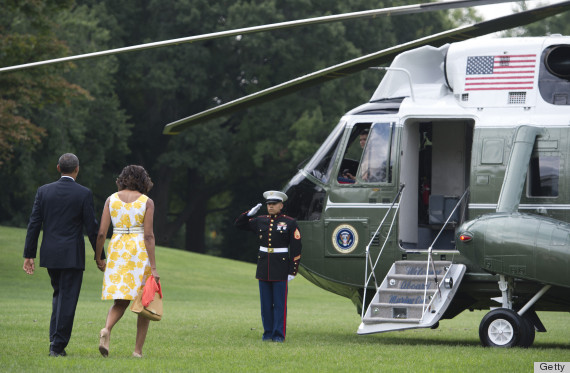 Many Americans have been forced to put their own vacation plans on hold due to a sputtering economy.

A recent Harris poll indicated that
34%
of Americans have held back on travel because they are worried about the bleak economic outlook.
But the sacrifices of the American people notwithstanding, the First Family seems to have no trouble asking taxpayers to foot the bill for their lavish vacations. I've documented some of these trips in previous Weekly Updates, most recently
just last week
, when I reported that a JW investigation showed that Obama/Biden President's Day vacations cost taxpayers $295,437.
This week, I report to you that JW has amped up its investigations of "Air Obama," filing
Freedom of Information Act (FOIA) lawsuits ag
ainst the
U.S. Secret Service
and the
U.S. Department of Defense
to obtain records detailing the amount of government funds spent on seven separate lavish trips taken by Barack Obama and the Obama family throughout 2013.
The Secret Service Freedom of Information Act (FOIA)

lawsuit, pursuant to a series of FOIA requests from June to August 2013, seeks

information from the Secret Service about "the use of U.S. Government funds to provide security and other services" to:
·
"First Lady Michelle Obama, Malia Obama, Sasha Obama, and any companions on a June 2013 trip to Ireland."
·
"President Barack Obama and any companions on a June – July 2013 trip to Africa."
·
"First Lady Michelle Obama and any companions on a Summer 2012 trip to London, England for the Olympics."
·
"President Barack Obama and any companions on a December 2012 trip to Honolulu, Hawaii."
·
"President Barack Obama and any companions on an August 2013 trip to California."
·
"President Barack Obama and any companions on an August 2013 trip to Martha's Vineyard, Massachusetts."
The Secret Service failed to substantively respond to these FOIA requests, and has effectively shut down Judicial Watch's inquiries about First Family travel.
On January 13, Judicial

Watch filed a separate FOIA lawsuit against the U.S. Department of Defense seeking further "records concerning

First Lady Michelle Obama's June 2013 trip to Ireland."
Let's take these trips one by one to cover what we know so far according to press reports.
·
With the Ireland trip, a
fter a brief stop in Belfast, where the President was taking part in a G-8 summit, the First Lady departed on her own,
apparently aboard Air Force Two
, for her side trip to Dublin. According to
WashingtonDossier.com
,
though the White House claimed the trip was for diplomatic purposes the itinerary showed, "She and her daughters will visit the Trinity College library to explore President Obama's Irish family roots, attend a performance by the world-famous Riverdance troupe, and visit the Wicklow Mountains national forest."
·
In a June, 2013, article, on Michelle Obama's trip to Ireland, the
Washington Times
reported, "The cost of the two-day trip in Ireland and Northern Ireland has been estimated at around $5 million. U.S. taxpayers pay the cost of the first family's travel." The Times reported that the First Lady stayed at a $3,300-per-night hotel suite in Dublin and enjoyed a
"typical Irish lunch"
with U2 frontman Bono."
·
In June, 2013
Fox News reported
that the President Obama's July trip to Africa "with the first family tagging along," was projected to cost taxpayers an estimated $100 million. According to a confidential planning document obtained by the
Washington Post
, "Military cargo planes will airlift in 56 support vehicles, including 14 limousines and three trucks loaded with sheets of bullet­proof glass to cover the windows of the hotels where the first family will stay. Fighter jets will fly in shifts, giving 24-hour coverage over the president's airspace, so they can intervene quickly if an errant plane gets too close."
·
According to
Examiner.com
, on First Lady Michelle Obama's 2012 trip to the London Olympics, she "was seen taking shopping sprees through London and sporting a $6,800 jacket to a reception, on a trip paid with taxpayer funds." In January, 2012, Judicial Watch obtained
records
from the Department of Defense revealing that the Obama's 2009 trip to Copenhagen, Denmark, in a failed effort to secure the 2016 Olympics for the city of Chicago, cost in excess of $467,175.
·
Barack Obama's vacations to Honolulu, Hawaii, have been estimated by the
Hawaii Reporter
to cost the taxpayers an annual average of $4 million. But, according to
WashingtonDossier.com
, the 2012 Hawaii vacation may have cost even more: "This year, Obama returned from Hawaii to complete a deal on the Fiscal Cliff and then jetted back to Honolulu, where he is now engaged in Part 2 of his vacation. The second roundtrip flight added about $3.24 million to the tab this time, bringing the cost of the 2012-1013 vacation to well over $7 million." The White House has failed to provide exact figures.
·
While the total cost of Barack Obama's August, 2013 trip to California, where he appeared on The Tonight Show, is still being withheld, the
Washington Times
reported, "At $180,000 per flight hour to operate the presidential aircraft, the trip cost taxpayers more than $1.8 million just for the flying time to California and back. That doesn't include two 50-minute flights in California on Marine One, the presidential helicopter; or the cost of lodging dozens of White House staffers and Secret Service agents overnight, or the cost of 20-vehicle motorcades at the various stops."
·
In August, 2013, the Obama family vacationed in Martha's Vineyard, Massachusetts, where, according to
U.S. News & World Report
,
"At a time when many more cash-strapped Americans are stuck at home instead of vacationing at the beach, President Obama next week will lead an entourage of several dozens to exclusive Martha's Vineyard island at a cost of millions to taxpayers."
No wonder these records have been so difficult to come by! These trips are an utter embarrassment for certain, but this is no reason to withhold information from the American people. Quite the contrary. The more shameful the behavior the greater the need for transparency. But that's not what we're seeing out of this administration.
The Obama administration is in cover-up mode on the costs of the Obamas' travel. The Secret Service has, in contemptuous violation of law, simply stopped answering our FOIA inquiries. It seems that our "king" does not want taxpayers to know how much he's spending on his unnecessary travel.
It's been this way from the very beginning. JW began investigating these Obama trips dating back to the newly minted First Couple's "date night" in New York. We've had to scratch and claw to get the records. And thanks to the diligence of our investigation and legal teams, we've been more successful than anyone else exposing these trip costs.
Click
here
to see for yourself all that we've uncovered.
But now the Obama administration, evidently tired of being called out on the Obamas' excesses, is trying to shut down our inquiries by violating the Freedom of Information Act.
(Click link below to read more)
READ MORE
Sphere: Related Content