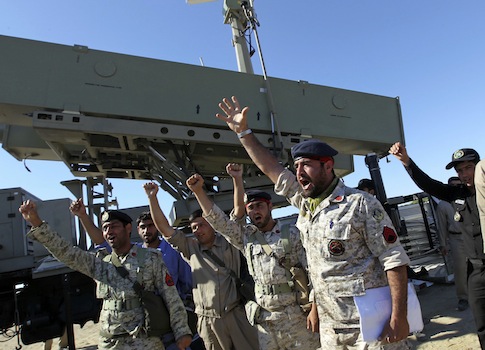 The U.S. Defense Department said on Monday that Iranian warships are allowed to sail into the Atlantic Ocean so long as "they understand the responsibilities" of cruising so close to the U.S. border.
The Pentagon's pronouncement comes just days after Iran
announced
that warships were approaching the U.S. maritime border in response to America's naval presence in the Persian Gulf.
Asked to respond to Iran's pointed military rhetoric, Pentagon spokesman Bill Speaks told the
Washington Free Beacon
that it would not be an issue for Iranian ships to enter the Atlantic.
"Freedom of the seas applies to all maritime nations, all navies, everywhere—so long as they understand the responsibilities, which come with that freedom," Speaks said. "So, if they are able to send their ships to the Atlantic, I'm sure they won't be surprised to find many, many others already there."
Speaks added that there is no solid evidence that Iranian ships are sailing towards the United States.
"On the Iranian claim, at this point, this is merely an announcement, not an actual deployment," he said.
Iranian naval commanders struck a much less conciliatory tone, threatening to sink U.S. warships and kill American soldiers.
"The Americans can sense by all means how their warships will be sunk with 5,000 crews and forces in combat against Iran and how they should find its hulk in the depths of the sea," Rear Adm. Ali Fadavi, the commander of the elite Islamic Revolution Guards Corps (IRGC) Navy, was quoted as saying Sunday in the regional press.
Another Iranian general said that the dispatch of warships to the United States "has a message."
"Iran's military fleet is approaching the United States' maritime borders, and this move has a message," Iranian Adm. Afshin Rezayee Haddad
said
according to the semi-official Fars News Agency.
(Click link below to read more)
READ MORE
Sphere: Related Content