North Korea fires four short-range missiles
Pyongyang responds to US-South Korea drills by firing missiles off the country's east coast, South Korea defence ministry says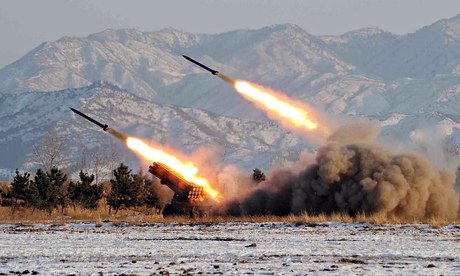 North Korea
has test-fired four short-range missiles into the sea, Seoul's defence ministry said, in an apparent show of force to coincide with the South's joint military exercises with the US.
A ministry spokesman said the missiles, with an estimated range of 200km (125 miles), were fired off the east coast of North Korea.
"Our military will maintain tight vigilance in preparation for additional launches or any military provocation from the North," the spokesman said.
North Korea regularly carries out short-range missile tests, and has used them before to display its anger at the annual military exercises. Observers said the tests were unlikely to trigger a significant rise in military tensions.
The
South Korea
-US drills began on Monday despite vocal opposition from Pyongyang, which views them as rehearsals for an invasion.
(Click link below to read more)
READ MORE
Sphere: Related Content