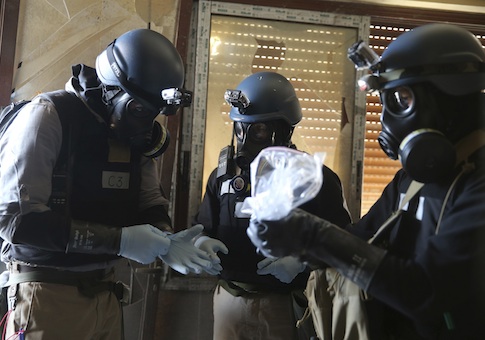 AMSTERDAM (Reuters) – Syria on Wednesday missed a deadline to hand over all the toxic materials it declared to the world's chemical weapons watchdog, putting the program several weeks behind schedule and jeopardizing a final June 30 deadline.
Under a deal reached in October between Russia and the United States, which helped avert a U.S.-led missile strike against the regime of President Bashar Al-Assad, Syria agreed to give up its entire stockpile of chemical weapons by February 5.
Russia said on Tuesday its ally Damascus would ship more chemicals soon, but Western diplomats said they saw no indications that further shipments were pending.
Syria has said it would submit a handover timetable to the Organisation for the Prohibition of Chemical Weapons (OPCW), which won the Nobel Peace Prize last year, but gave no indication of when that would happen.
There have been no additional shipments since January 27 and the latest deadline was missed, said OPCW spokesman Michael Luhan. "It's a status quo until we get this plan."
Syria had already missed a December 31 deadline to relinquish the most poisonous chemical agents, including mustard gas and sarin precursors.
(Click link below to read more)
READ MORE
Sphere: Related Content