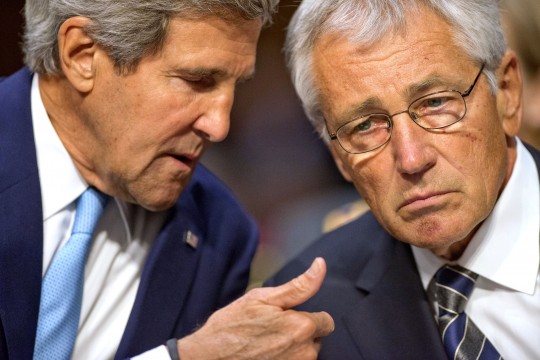 The top U.S. Army officer told lawmakers on Tuesday that a return to deep budget cuts as required by law beginning in 2016 would make it difficult for the military to carry out even one extended ground war.
General Ray Odierno, the Army chief of staff, told a panel in the House of Representatives that severe, across-the-board budget cuts would force the Army to shrink to 420,000 active-duty soldiers, a level at which it could no longer execute the president's national defense strategy.
President Barack Obama's strategy issued in 2012 calls for a U.S. military strong enough to prevail in one major war while having the ability to deter an aggressor in a second conflict. That was a shift from the earlier longtime goal of being able to win two separate wars simultaneously.
"I'm very concerned that at 420,000 we cannot meet the … defense strategic guidance," Odierno told the Armed Services Committee. "I doubt that we could even execute one prolonged, multi-phase operation that is extended over a period of time."
The Army chief told lawmakers the proposed $496 billion defense budget for 2015, which calls for an Army of 440,000 to 450,000 troops, would be able to meet the president's defense strategy, but with "significant risks." The original 2012 strategy called for an Army of 490,000 troops.
Odierno's budget concerns were echoed in other hearings across Capitol Hill on Tuesday as lawmakers quizzed senior defense officials about the president's proposal for Pentagon spending in 2015 and the department's five-year defense plan.
(Click link below to read more)
READ MORE
Sphere: Related Content