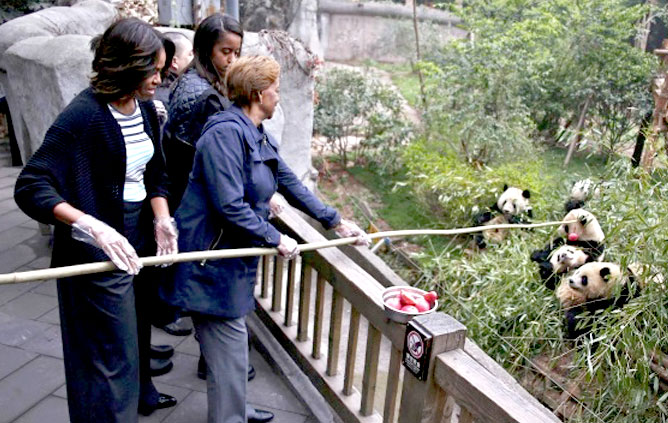 "It's very rare that I have the opportunity to travel outside of the United States, and it's even more rare to have the opportunity to travel with three generations — with my daughters, and with my mother … And it is no accident that one of our first trips as a family is here to China."
That's Michelle Obama speaking at a school in Beijing last week. And yes, this is what she said verbatim. If you don't believe me you can read it for yourself on
the White House website
, which posted the First Lady's remarks in full.
Now, if you've read this space for any length of time, you get the joke. Mrs. Obama has been, from day one, a prolific jet-setter, traipsing around the world with family in tow and at taxpayers' expense.
The cost of this China trip is still a state secret at least until JW fires off its Freedom of Information Act (FOIA) requests, as we have done with previous Obama family vacations and trips. (
Newsmax
reported the cost of her 5-star, 3,400 square foot presidential suite at $8,400 per night!)
But while taxpayers are left to wonder how much they'll have to pull out of their pockets to grant Mrs. Obama, her daughters and mother access to a Jacuzzi, sauna and 50-inch flat screen television, JW recently released details regarding the cost of Obama family vacations from 2013.
Last Thursday, March 19, we released
flight expense records
from the U.S. Department of the Air Force revealing that President Obama incurred $15,885,585.30 in flight expenses alone for the family's June-July 2013 trip to Africa and their 2013-2014 Christmas vacation to Honolulu. The records came in response to a FOIA request.
According to the Department of Air Force documents:
The flights to, from, and around Africa for the June-July 2013 trip totaled 35.5 hours at $228,288 an hour, which comes to a flight expense alone of $8,104,224
The flights to and from Honolulu for the December 2013-January 2014 Christmas vacation totaled 36.9 hours at $210,877 an hour, which comes to a flight expense alone of $7,781,361.30. This is an increase of $3,695,006.10 from the flight expenses Judicial Watch reported the Obama's incurred for their 2012-2013 Honolulu Christmas vacation.
Remember, these costs only relate to the flights alone, and do not account for other expensive line items, including Secret Service costs, transporting vehicles, etc.
From
June 27, 2013, to July 3, 2013, Obama visited three countries in Africa: Senegal, South Africa, and Tanzania
. According to reports in the
Washington Post
, the total cost to taxpayers for the Africa trip was approximately $100 million.
The Hill
newspaper reported that when pressed by reporters about the "massive cost," the White House simply responded that the trip offers "great bang for the buck."
Saying he was "
eager to skip town
" Obama also took his family to Honolulu on December 20, 2013, for a 17-day Christmas vacation.
In February,
Judicial Watch reported
that Obama incurred $1,164,268.60 in flight expenses alone for the August 2013 Obama family vacation to Martha's Vineyard, Massachusetts. During that vacation, the Obama family spent eight days at the $7.6 million Martha's Vineyard home of David Schulte, founder of the private equity firm Chilmark Partners.
And getting back to China, the Obama White House went out of its way to point out that this trip was "not political" and therefore no press would be allowed to accompany the First Lady. This was more about giving a few milquetoast speeches,
visiting tourist sites
and
feeding the pandas
, we were told. All the more reason to disclose the costs of the trip. But no dice.
The Wall Street Journal
points out the absurdity: "You can see a video of First Lady Michelle Obama playing ping-pong in China, hear her talk about the importance of studying abroad and view a picture of her huddling with her daughters with the Great Wall Of China snaking into the distance. What you won't see, however, is a disclosure of how much her week-long trip in China cost."
Although the total costs are elusive, JW investigators have done phenomenal work digging out some hard numbers. There is no question that the costs to taxpayers for the Obama family's unnecessary luxury vacation travel are beyond the pale.
(Click link below to read more)
READ MORE
Sphere: Related Content