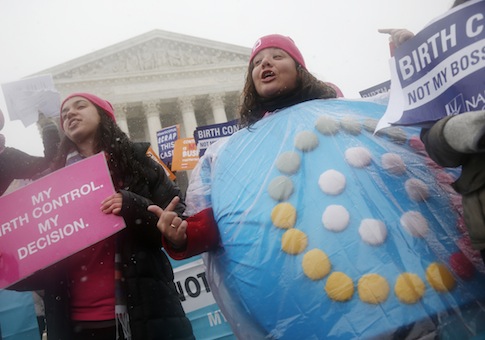 Hobby Lobby and the Obama administration finally appeared before the Supreme Court on Tuesday morning to present their arguments over Obamacare's contraception mandate to the nine justices. The oral argument is the justices' only opportunity to interrogate each side, and, as a result, their questions can give a peek into their priorities.
The
discussion
between the justices and each sides' lawyer was wide ranging, but the justices' questions generally fell into three broad areas of inquiry: the potential for a slippery slope, the rights of corporations, and the effect of the sprawling law's structure.
Sliding down the slippery slope?
One key thing the justices wanted to know was how far each side's argument would extend.
Hobby Lobby's owners are arguing that Obamacare's mandate to provide four kinds of contraception violates their Christian faith, and as a result they want an exemption from the requirement on the basis of their religion.
Two liberal justices, Elena Kagan and Sonia Sotomayor, wanted to know how broadly Hobby Lobby's claim extended.
"Is your claim limited to sensitive materials like contraceptives or does it include items like blood transfusions [and] vaccines?" Sotomayor asked Paul Clement, Hobby Lobby's representative before the Court, at the very beginning of his argument.
Kagan fleshed out a potential implication. "One religious group could opt out of this and another religious group could opt out of that and everything would be piecemeal and nothing would be uniform," she said.
Clement answered that each appeal for an exemption would have to be decided on a case-by-case basis.
(Click link below to read more)
READ MORE
Sphere: Related Content