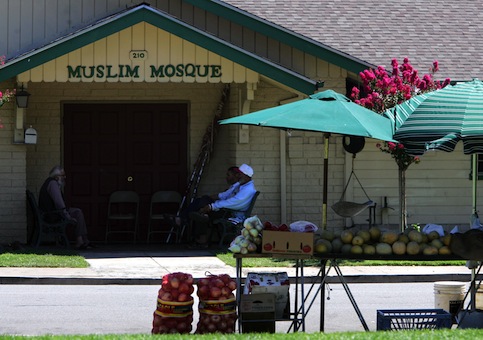 The National Guard reservist arrested this week for planning to blow up the Los Angeles subway attended a radical California-based mosque that has been home to known terrorists and other extremist Muslims deported from the United States for their ties to terror.
The FBI on Monday charged Nicholas Teausant, a 20-year-old National Guard reservist, with attempting to help al Qaeda carry out an attack on the Los Angeles subway system.
Teausant—who was found to be
in possession of "lone wolf" terror man
uals
that teach readers how to build and detonate bombs—was known to have attended a terror-tied mosque in Lodi, a small town east of San Francisco.
The Lodi mosque has frequently found itself at the center of FBI terrorism investigations and its former imam was arrested and deported for urging his congregation to kill Americans in the wake of Sept. 11, 2001.
An Instagram account believed to be Teausant's
features
several
images
of the mosque and comments such as, "Let's hit dis prayer!! #muslim #prayer #alhamduilliah #mashallah #makedua #inshallah #AllahuAkbar."
Terror mastermind Ayman Al-Zawahiri, a close friend of Osama bin Laden and current leader of al Qaeda, attended the mosque prior to 9/11,
according
to reports.
(Click link below to read more)
READ MORE
Sphere: Related Content