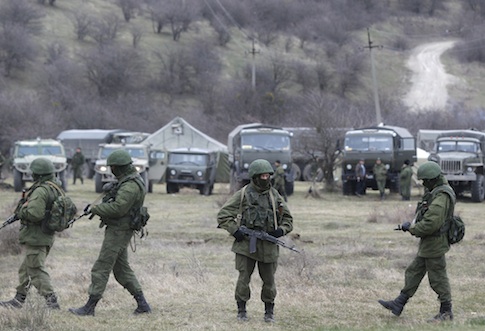 President Barack Obama's response to the Russian invasion of Crimea will have far-reaching repercussions, experts said on Tuesday.
Russian President Vladimir Putin
announced
the end of military exercises near the eastern border of Ukraine on Tuesday but said the country "reserves the right to use all means at our disposal to protect" Russian speakers in eastern and southern Ukraine. The Ukrainian ambassador to the United Nations said Russia had sent 16,000 troops into Ukraine's Crimean Peninsula following the ouster of pro-Russian President Viktor Yanukovych in Kiev.
Experts
said
at the Heritage Foundation that all of America's geopolitical foes are paying attention to the U.S. response to Russian aggression in Crimea, not just Putin.
Chris Griffin, executive director of the Foreign Policy Initiative, said "global pressure" against the American-led international order is intensifying.
He noted that a top leader of U.S. naval intelligence has
said
China is training for a "short, sharp war" with Japan over the disputed Senkaku islands, the Syrian regime continues to
kill
its own people with shrapnel-filled barrel bombs, and at least 17 people have died in
protests
against Venezuela's socialist government.
"We can see that human rights are being threatened from the Middle East to our own neighborhood in Venezuela," he said.
(Click link below to read more)
READ MORE
Sphere: Related Content