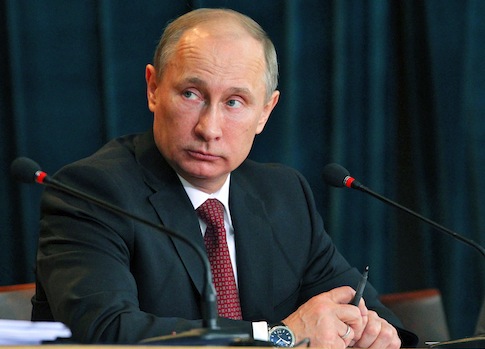 Bill Gertz over at the Washington Free Beacon
reports
that House leaders seek a General Accounting Office (GAO) investigation into the State Department's failure to report Russian violations of the 1987 Intermediate-Range Nuclear Forces (INF) Treaty. Gertz writes:
"It is clear from my subcommittee's oversight that the administration did not fully disclose what it knew about Russian arms control violations when it was trying to get the New START treaty ratified," said Rep. Mike Rogers (R., Ala.), chairman of the House Armed Services subcommittee on strategic forces. "Its all-consuming drive to protect its Russia reset policy has gutted our missile defenses, alienated allies, and only encouraged Vladimir Putin's lawlessness," he said in a statement.
Alas, the willingness of the State Department (often the Central Intelligence Agency as well) to turn a blind eye to intelligence that undercuts high-profile diplomatic engagements is more the rule than the exception. Researching
Dancing With the Devil
, it became clear that diplomats and analysts often seek to bury information that might lead Congress to conclude that diplomacy is not successful. When Ronald Reagan defeated Jimmy Carter, both the CIA and the State Department changed their interpretation of the "yellow rain" incident to suggest that the battlefield presence of deadly toxins dropped from airplanes had less to do with the Soviet planes that dropped them than naturally occurring bee feces that just happened to appear in the area at the same time. To conclude that the Soviet Union had violated the Biological Weapons Convention (BWC), diplomats and analysts feared, might undercut efforts to conclude the second Strategic Arms Limitation Treaty (SALT-2). Years later, however, as the Soviet Union collapsed, Russian officials acknowledged that they had indeed cheated on the BWC.
(Click link below to read more)
READ MORE
Sphere: Related Content