So What to Do?
You're going to hear a lot of "well, there's not much we can do" in the coming days and weeks, a preemptive excuse for administration dithering, indecision, and empty gestures.
John Fund:
The U.S. should immediately move to expand its existing Magnitsky Act, which prohibits Russians engaged in illegal activity from entering the U.S. If it were extended to the regulation of bank accounts and property ownership in the U.S., we'd hear howls of outrage from many Russian officials and oligarchs. Senator Marco Rubio (R., Fla.), for one, supports this kind of restriction: "Living in Miami, I have seen in recent years the wave of Russian tourists coming to our city and state to spend money and buy property. Many are government officials or allies whose wealth stems from allegiance to Putin, and we should limit their ability to travel here."
The editors of the Wall Street Journal:
Russia today is not the isolated Soviet Union, and its leaders and oligarchs need access to Western markets and capital. All trade and banking relationships with Russia ought to be reconsidered, and the U.S. should restrict the access of Russian banks to the global financial system. Aggressive investigations and leaks about the money the oligarchs and Mr. Putin hold in Western banks might raise the pressure in the Kremlin. The U.S. should also expand the list of Russian officials on the Magnitsky Act's American visa ban and financial assets freeze, including Mr. Putin.
The U.S. can also deploy ships from the Europe-based Sixth Fleet into the Black Sea, and send the newly commissioned George H.W. Bush aircraft carrier to the eastern Mediterranean. NATO has a "distinctive partnership" with Kiev and in 2008 promised Ukraine that it could eventually join. It's impractical and risky to bring Ukraine in now. But the alliance should do what it can to help Ukraine and certainly boot the Russian mission, a well-known den of spies, from NATO headquarters in Brussels and shut down the useless Russia-NATO Council.

Tom Rogan:


Were the president to unleash America's energy boom into the export sector, fast-tracking energy supplies to Europe, he'd pull the rug out from under Putin's feet. No longer subject to Putin's energy protection racket, Europe would be free to take a tougher stand against his intimidation. More important, removed of the foreign capital flows born of his own energy exports, Putin would be unable to support his increasing military expenditures and continuing support for Assad's rampages in Syria.
....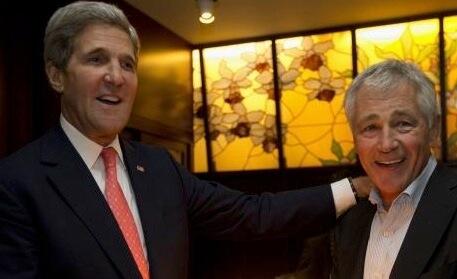 "Don't worry, world! We've got this one!"
(Click link below to read more)
READ MORE
Sphere: Related Content