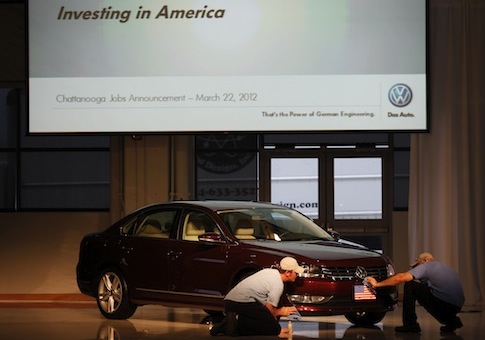 Big Labor and Big Business are working together to block autoworkers from defending a vote that defeated unionization in right-to-work Tennessee.
Employees at the Chattanooga Volkswagen plant that
rejected UAW representation by wide margins in February
filed a motion before the National Labor Relations Board (NLRB) disputing
union challenges
to the outcome.
"If the [workers] are not allowed into this case, this … election process could go on forever. The UAW and Volkswagen could collude to schedule re-run elections over and over again, ad infinitum, until UAW representation is achieved," the motion says. "It would be a mockery of justice for the board to allow only two colluding parties—the UAW and Volkswagen—to be parties to this objections proceeding. It would be akin to allowing two foxes to guard the henhouse."
VW has been pushing the plant to form a European-style works council to serve as a go-between for management and employees. While such councils are not necessarily unionized in Europe, a VW board member threatened to cut off investments to the plant if workers refused to join the UAW.
"I can imagine fairly well that another VW factory in the United States, provided that one more should still be set up there, does not necessarily have to be assigned to the South again," Bernd Osterloh, head of VW's works council,
said following the election
. "If co-determination isn't guaranteed in the first place, we as workers will hardly be able to vote in favor" of potentially building another plant in the U.S. South.
The UAW immediately rejected the workers' petition, arguing that only employees who are union members can appear before the NLRB.
"Employees not purporting to be a labor organization and not a party to the election lack standing to intervene in post-election proceedings," it said in a filing.
The company said that employee views should play no role in the appeals process in a legal briefing submitted on Thursday.
(Click link below to read more)
READ MORE
Sphere: Related Content