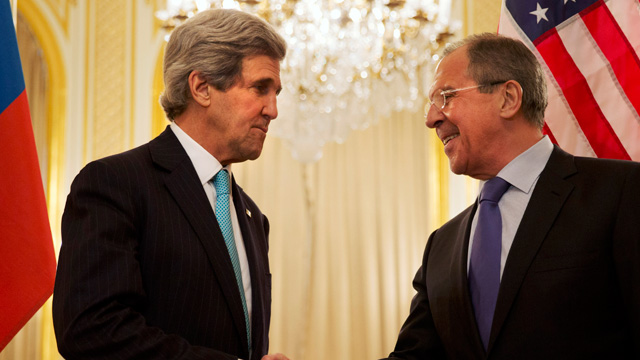 So Kerry met with Lavrov, and came out talking about everything except what really happened in the meeting. Far from backing down, Russia held a gun to his head (40 to 100 thousand troops on the border) and demanded more, calling for parts of Ukraine to have "autonomous powers", which is really a demand for parts of Ukraine to be under Russian control.

Excerpted from The Guardian:
Russia on Sunday night repeated its demand that the US and its European partners accept its proposal that ethnic Russian regions of eastern and southern Ukraine be given extensive autonomous powers
independent of Kiev as a condition for agreeing a diplomatic solution to the crisis over its annexation of Crimea.
Sergei Lavrov, Russia's foreign minister, told reporters Ukraine could not function as a "unified state" and should become a loose federation.
He made the remarks after an inconclusive meeting with John Kerry, the US secretary of state, at the Russian ambassador's residence in Paris following a day in which tensions over Ukraine deepened appreciably. Lavrov called the talks "very, very constructive".
Kerry told reporters the US and Russia agreed on the need for a diplomatic solution but made clear there had been no breakthrough, saying the Russian troop build-up along the border was creating a climate of fear and intimidation in Ukraine and was not helpful.
He called for Russia to pull back its forces and said talks on the country's future must include Kiev's leaders. "We will not accept a path forward where the legitimate government of Ukraine is not at the table. This principle is clear. No decisions about Ukraine without Ukraine."
Despite the distance between the two sides, Kerry said Washington would "consider the ideas and the suggestions that we developed tonight".
The meeting took place against an ominous backdrop of the gathering of an estimated 40,000 Russian troops on Ukraine's eastern border, and warnings from Nato and the Pentagon that the Russian military activity, ostensibly relating to routine exercises, was abnormal and could be a prelude to an invasion.
General Philip Breedlove, Nato supreme allied commander Europe and the head of the US military's European command, was ordered back to his post in Brussels during a visit to Washington after Chuck Hagel, the US defence secretary, pointed to "a lack of transparency" from Russia about the troop movements. Unlike Moscow, Washington has said it will not resort to force to resolve the crisis.
The US has called on Russia to disarm irregular forces in Crimea, admit international observers and pull its troops back from the eastern border. But speaking to Russian state television before the talks, Lavrov laid out Moscow's quite different terms. Primarily, he said, Russia was seeking a federal solution for Ukraine as part of "deep constitutional reform".
"Frankly speaking, we don't see any other way for the steady development of the Ukrainian state apart from as a federation," he added. Under the Russian plan, which Barack Obama and Vladimir Putin reportedly discussed in a phone call initiated by Moscow on Friday, each region would have control of its economy, taxes, culture, language, education and "external economic and cultural connections with neighbouring countries or regions", Lavrov said.
"Given the proportion of native Russians [in Ukraine], we propose this and we are sure there is no other way."
The Russian proposal to radically alter the way Ukraine is governed and administered is certain to arouse strong opposition in Kiev, where it will be viewed by critics of Moscow's intervention in Crimea as a roundabout way of breaking up or partitioning the country.
In an apparent attempt to assuage concerns in Kiev and western capitals about Russian intentions, Lavrov said there were no plans to invade eastern Ukraine.
Latest US intelligence estimates based on satellite data indicate that Russia's troops on the Ukrainian border include a wide range of special units, elite forces and equipment.
Keep reading
(Click link below to read more)
READ MORE
Sphere: Related Content