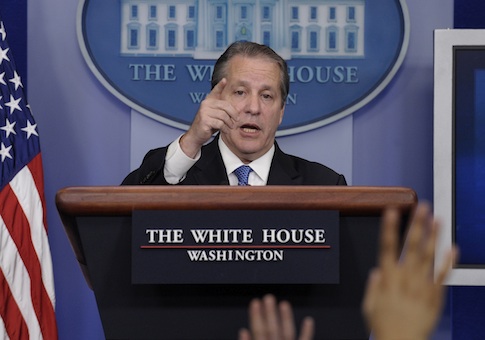 A top White House economic adviser and three Democrats on a conference call touting the president's minimum wage hike could not identify how many workers actually earn the minimum wage.
Director of the National Economic Council Gene Sperling demurred when asked by a reporter how many workers actually earn $7.25 per hour. After a brief interlude, Sperling returned to the call, saying that "5 percent" of American workers earn the minimum wage. That figure, however, overstates how many workers earn the wage. The Bureau of Labor Statistics
report
often cited by the White House states own talking points state that only 3.6 million out of the nation's
104.8 million workers
earn the minimum wage, about 3.4 percent.
Sperling went on to say that the large hike "will not have any negative economic impact at all" while increasing wages for millions of Americans.
Trinity University Economist David MacPherson, whose research on the minimum wage has been cited by the Congressional Budget Office and multiple academic journals, disputed Sperling's statement.
MacPherson agreed with a CBO report that concluded that the $10.10 wage might eliminate
500,000 jobs
.
(Click link below to read more)
READ MORE
Sphere: Related Content