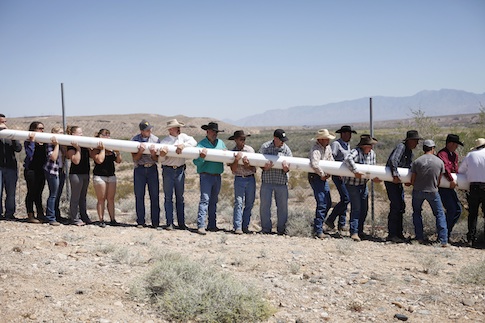 Armed Rangers were brought in from out of state by the Bureau of Land Management (BLM) to assist in security surrounding the Bundy Ranch, according to the family.
A heated confrontation on Wednesday resulted in Cliven Bundy's son Ammon being
tasered
by BLM officials and a 57-year-old protester being shoved to the ground.
Stetsy Bundy Cox, Cliven's daughter, told the
Washington Free Beacon
that some of the rangers had Oregon and California license plates.
"You know, some of these guys don't even know why they're here," she said. "A few people have talked to them and they got called in here on an emergency feed and they didn't know what it was for, it just said they had to be here."
"They're almost like a hired gun," Cox said. "Because what they're supposed to do is they each have a road, and are told to stay on that road, and they're supposed to keep people off that road, whatever means possible. That's their job. They don't even know how many cows have been gathered."
The BLM did not respond to requests for comment by press time.
Cox said she spoke with an out-of-state Ranger who was ashamed of his job.
"I actually went and talked to one, he was in the back, nobody was even talking to him. He didn't say much," she said. "He had a huge big gun on him, but he didn't really even touch his gun."
(Click link below to read more)
READ MORE
Sphere: Related Content