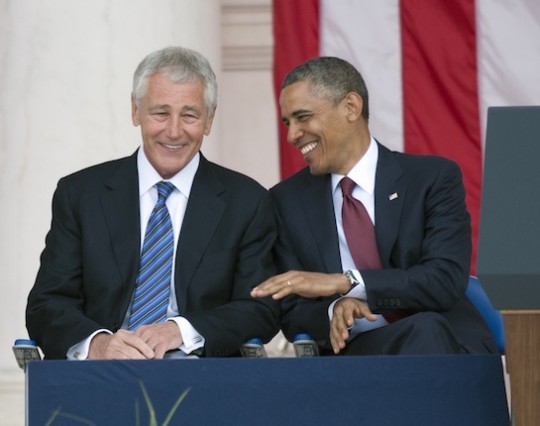 Do you know what your defense secretary is up to these days? Besides calling for a
significant reduction
in U.S. military strength,
republishing
his 2008 memoir, and having his calls
ignored
by the Ukrainian government?
Well, it seems that former "Republican" senator and
self-described
"American" Chuck Hagel has been reiterating his devotion to the progressive cause. The
Wall Street Journal
reports
[emphasis mine]:
Defense Secretary Chuck Hagel and other top U.S. officials plan to emphasize increased humanitarian and security risks posed by climate change during meetings this week with military officials from Southeast Asia. …
The message reflects an increased effort within the Obama administration to persuade both the U.S. public and other governments that the extreme weather events linked to climate change are putting at risk major swaths of the world's population, even as polling shows most U.S. residents don't see it as an urgent issue.
To be fair, Hagel warned of the dangers of "climate change" in his 2008 memoir: "America: Our Next Chapter: Tough Questions, Straight Answers."
"The specter of ecological collapse through climate change," Hagel wrote, is not a challenge "that can be met and overcome through the imposition of one nation's will and unrivaled military power."
This may disappoint the more militant factions of the environmentalist movement, but Hagel's "America" isn't about pleasing everyone. It's about promoting bold leadership strategies in a treacherous world.
(Click link below to read more)
READ MORE
Sphere: Related Content